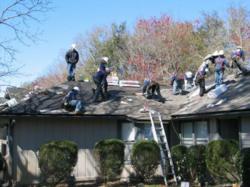 Roof Link Inc. is now repairing flat roof types like gravel, turf, rubber and other coverings that deviate from the traditional asphalt style.
St Augustine, Florida (PRWEB) September 20, 2012
Roofing contractors in St Augustine, FL from Roof Link's contractor network are now offering same day estimates for homeowners. These estimates include those for repair and complete roof installations. The hurricane season has now started in Florida and many homeowners are doing all that they can to protect their homes. The contractors supplied by Roof Link Inc. are now working seven days a week in part to meet the demands of homeowners in North Florida. A complete range of roofing services are available by Roof Link and more information can be found by visiting this link on the Roof Link website http://www.roofingjacksonvilleflorida.com/roofing-contractors-st-augustine-fl-roof-link.
There are millions of dollars in damages that are racked up each year in states like Florida that have weather patterns that can change instantly. The Hurricane Prediction Center that is part of the National Weather Service group frequently alerts Florida homeowners days in advance of severe weather patterns that could be threatening to personal property.
One of the problems that homeowners face is the destruction that can happen both inside and outside of a home. While shingles or roof coverings can be damaged, it is often the water damage created from severe weather that can destroy the inside of a home quickly. Roof Link contractors now start every repair or replacement assessment from the inside of each home.
The economic challenges that some parts of Florida have experienced due to the housing slowdown has caused a shortage of homeowners that have insurance coverage. The cost of hurricane insurance and general homeowners insurance typically rises each year depending on the level of severe weather that took place in the year prior.
Homeowners without insurance policies to help aid in the cost of roof repairs or damage can often locate roofing contractors in a variety of places on the Internet. Website referral services like Angie's List and Google Places are examples of the convenient ways that homeowners can use to find qualified and licensed roofing companies online.
Complicated roof repairs are usually not offered by average contractors that perform asphalt only roof repairs and installations. Homes in states like Florida that have variations of a flat roof system often require special training by contractors before repairs or installations can be made. Roof Link Inc. is now repairing flat roof types like gravel, turf, rubber and other coverings that deviate from the traditional asphalt style to help expedite available homeowner services in Northern Florida.
Homeowners that are searching for a roofing company to offer repairs, replacement services or same day damage assessments can now contract Roof Link at this office address:
Roof Link Inc.
2730 Isabella Blvd
Suite 50
Jacksonville Beach, FL 32250
http://www.youtube.com/watch?v=pnqT1yqPXIc
About Roof Link Inc.
A talented partner network of contractors and roofing professionals are some of the experts that help to make up Roof Link. By responding faster and achieving higher levels of homeowner satisfaction, Roof Link Inc. has been able to rise above many of the contracting referral companies that are located in the state of Florida. As a Jacksonville, FL based company, Roof Link is an in-demand first responder to all reports of homeowner damage and estimate requests for North Florida homeowners. Roof Link Inc. has extended its contracting services to seven days a week both during and after the 2012 hurricane season.