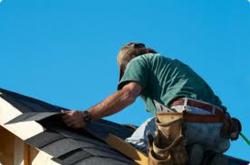 It takes more manpower, skill and tools that some companies don't have to maintain a flat roof.
Jacksonville Beach, FL (PRWEB) September 14, 2012
Roofing contractors are one group of specialists that are depended on heavily during every season. The contractors that Roof Link Inc. now has working seven days a week are now performing much needed new services for homeowners and business owners in Northern Florida. The roofing contractors in Jacksonville Beach, FL for Roof Link are now completing flat roof repair work in addition to other expert roofing services. The rise in construction companies that are installing flat roofs and the number of existing homes that use this alternative style is one reason for the new addition. More information about how Roof Link is helping Jacksonville Beach homeowners can be found at the following link http://www.roofingjacksonvilleflorida.com/roofing-contractors-jacksonville-beach-fl-roof-link.
Shingle roofs have been used since the earliest part of the 20th century. Alternative roofing materials have grown in popularity in the past two decades as homeowners search for different ways to add or subtract heating and cooling. The use of non-traditional roofing materials like turf, gravel and rubber have become popular in states like Florida that have high humidity and increased moisture damage. Roof Link Inc. is one of few contracting companies now in the North Florida area that can install and maintain these flat roof styles.
"It takes more manpower, skill and tools that some companies don't have to maintain a flat roof," said Roof Link Inc. founder, Garrett Wadford. "We've expanded our training and our equipment to make sure that we're able to provide the best quality service for homeowners that need instant roof repair during the hurricane season and during the off-weather season," Wadford added.
The amount of total roof replacements in Florida is about to increase in size thanks in part to new Florida legislation. To keep up with insurance fraud issues, several key components have been changed in the state laws to help aid homeowners during roof repair work. There are new statutes in place that can require an insurer to replace an entire roof that is damaged more than 25 percent.
This change is expected to help a lot of homeowners get a new roof that has been deteriorated by age or other factors. Some insurance companies traditionally retracted from supplying a new roof that was older than 20 years, and often adjusted the insurance estimate price downward with each year of home ownership.
Homeowners in the Jacksonville, FL area that are interested in learning more about Roof Link services or to receive a repair estimate can now contact Roof Link at the following office address:
Roof Link Inc.
2730 Isabella Blvd
Suite 50
Jacksonville Beach, FL 32250
(904) 900-2801
http://www.youtube.com/watch?v=SqqO6SWFL3Y
About Roof Link Inc.
By incorporating the best roofing supplies and contractors, Roof Link Inc. has quickly grown in size over the past decade of service in North Florida. Garrett Wadford started Roof Link with the simple goal to help homeowners and work closer with insurance companies to provide a common ground when severe weather or other deterioration affects the support system of a residential or commercial roof. As state licensed roofing contractors, Roof Link Inc. provides shingle, asphalt, gravel, rubber and other types of flat roof repair work in and around its home city of Jacksonville Beach, FL.