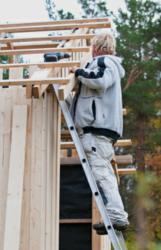 The recent company additions by Roof Link Inc. is one way this network roofing company is helping to provide additional manpower.
Jacksonville, FL (PRWEB) December 01, 2012
Roof Link Inc. has announced a new company expansion for its roofing services. This roof repair in Jacksonville, FL company has added new roofers to its contractor network that serve the North Florida area. More information about this expansion can be found at http://www.roofingjacksonvilleflorida.com/blog.
These new professionals are licensed contractors that are available for commercial and residential roofing jobs. This new company expansion is an effort to help bring more qualified repair personnel to the residents and business owners in North Florida.
Roofing accidents like collapses, blown off shingles and dry rot represent some of the issues that both commercial and residential properties can face each season. High hurricane probability states like Florida often have a shortage of qualified workers that can be dispatched when severe weather happens.
The recent company additions by Roof Link Inc. is one way this network roofing company is helping to provide additional manpower.
Quality roofing materials is the first line of defense that homeowners and business owners can use to defeat weather intrusions or damage. Several grades of roofing materials are produced annually and installed by building companies or contractors that perform installations. The added network contractors at Roof Link Inc. are now using some of the best roofing supplies and materials that are rated for severe weather use.
Contractors that receive updated training and certifications can produce a higher quality of work compared to an average handyman. Building code legislation in states like Florida is routinely examined annually to help add additional layers of security for homeowners and business owners that experience roof related issues.
The added contractors now working with Roof Link Inc. know and understand building codes to provide safe and professional repair or installation work. A new report about the recent addition of commercial contractors can be found at this link http://www.prweb.com/releases/commercial-roofing/contractors-in-jax-fl/prweb9980628.htm.
Homeowners or business owners that require a quote for damage repair or would like to receive more information about roof installations in North Florida can contact Roof Link Inc. at the the following business address:
Roof Link Inc.
2730 Isabella Blvd.
Suite 50
Jacksonville Beach, FL 32250
(904) 900-2801
http://www.roofingjacksonvilleflorida.com
About Roof Link Inc.
Roof Link Inc. is a network roofing contracting company that offers some of the most talented roofing contractors found in the North Florida area. These talented workers are licensed to perform commercial and residential repairs and installations for roofs in the state of Florida. The Roof Link Inc. company has more than a decade of experience locating the top roofers to finish new home construction, repair storm damage and point out problems to insurance adjusters. Roof Link launched its website online in 2010 to help provide an online resource for Jacksonville Beach, FL area residents to find qualified roofers.