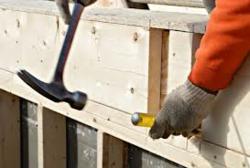 Roof Link Inc. is now offering same day roof repair quotes to homeowners from its website.
Palm Valley, Florida (PRWEB) September 29, 2012
Roofing contractors can be difficult to contact in states like Florida that have a busy hurricane season. One company is making an effort to expedite the contact and communication for homeowners. Roof Link Inc. is now offering same day roof repair quotes to homeowners from its website. A new and improved online quote form has been added to make it faster for homeowners to contact Roof Link for roof repair or roof replacement services in North Florida. More information about the same day services or roofing contractors in Palm Valley, FL can be found at this link online http://www.roofingjacksonvilleflorida.com/roofing-contractors-palm-valley-fl-roof-link.
One of the delays that are common in the roofing industry is the time frame between reports of damage and arrival by a roofer. The decision of payment is often the biggest factor in determining the speed of a roofing company that responds to reports of damage. Some roofing companies prefer to work with insurance companies and wait to be dispatched after insurance policy reviews have been completed.
The Roof Link Inc. contractors that respond to requests now made by homeowners online are able to eliminate the traditional delays by gathering sufficient information in advance. This effort is designed to help contractors arrive faster to assess damage or start the repair or replacement work for homeowners in North Florida.
The quality of materials that are used produce roofing shingles and other coverings changes each year. New developments are integrated into new products that are often supplied to the roofing industry after being tested in key markets in the U.S. States like Florida now have certain state legislation in place that make it illegal to use low grade roofing materials for repairs and replacements. A specific permit is required that details the type of materials that must be used and those that must be avoided. Roof Link Inc. contractors comply with the new state legislation to improve homeowner satisfaction.
The hurricane zone map that is published annually in Florida is used as a guide to help educate homeowners that own properties in these specific areas. Properties that are located in more severe zones can often use different roof materials compared to those that are in safer areas. Roofing material manufacturers like Owens Corning now manufacture hurricane wind resistant shingles that are rated at 130 miles per hour.
These shingles are now used by Roof Link contractors for all homeowner repairs and roof replacements that require the use of asphalt based shingles.
Homeowners that are interested in receiving a same day roofing repair or replacement quote online can now contact Roof Link at the following address:
Roof Link Inc.
2730 Isabella Blvd.
Suite 50
Jacksonville Beach, FL 32250
(904) 900-2801
http://www.roofingjacksonvilleflorida.com/warranty
About Roof Link Inc.
As North Florida based roofing company, Roof Link Inc. pairs homeowners up with talented and state licensed contractors for all roof repair and installation work. Roof Link started its roofing company over a decade ago and is now one of the most respected and in demand roofing companies in Jacksonville, Florida. The partner contractors that Roof Link Inc. uses include Owens Corning Platinum Preferred Contractors that are certified for roofing excellence. This prestigious award is presented to less than one percent of roofing companies in the United States.