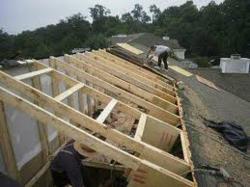 The owner of Roof Link, Garrett Wadford, personally made this change to assist the local community.
St. Augustine, FL (PRWEB) September 11, 2012
Roofing repair contractor in St. Augustine, FL, Roof Link Inc., is now offering emergency roof repair services. This is in response to the large demand for homeowners that report damage in the hurricane season. The roofing experts at Roof Link are on standby to provide emergency roof leak repair and roof replacement services if requested by St. Augustine homeowners. The owner of Roof Link, Garrett Wadford, personally made this change to assist the local community. More information about the roofing repair contractor in St. Augustine, FL services by Roof Link Inc. can be found at the following link http://www.roofingjacksonvilleflorida.com/roofing-repair-contractor-st-augustine-fl.
While the total hurricane damage in Florida totals in the billions each year, the cost to a homeowner can be zero to thousands of dollars. Insurance companies often work to adjust the amount of money paid out by assigning adjusters to homeowner insurance policy damage reports. The new legislation that was passed in Florida is helping homeowners to fight back against insurers that do not pay for damage.
A new law in effect to help homeowners demands that insurance companies replace an entire roof by using a licensed contracting company if more than 25 percent of a roof is damaged or missing shingles. These changes are helping more homeowners to get qualified roofing contractors to complete the work on their homes.
Storm damage is one reason that homeowners can contact a contractor to provide a roof replacement although natural shingle deterioration is another reason. The humid climate and above average temperatures are two things that deteriorate low quality shingles. Homes that have roofs that are more than 20 years old can quickly be diminished through natural causes. The water and wind penetration that can happen to loose or rotted shingles can be expensive to fix.
Roof Link Inc. helps to inform homeowners of these damages that are considering roof repair work. Shingle manufacturers like Owens Corning currently manufacture shingles that are installed by Roof Link to eliminate shingle deterioration and wind damage.
Not all homes in the North Florida area are constructed using standard shingle roofs. There are flat roofs, rubber and asphalt roofing options that are often installed by builders that construct new homes or contractors that flip foreclosed homes. While some companies perform strict shingle repairs, Roof Link Inc. has been able to expand its offerings as well as its service area to help homeowners that have a non-traditional roof. These added services are also included in the new emergency service now offered as a complete peace of mind for local residents in and around St. Augustine, FL that are bracing themselves for the unpredictable hurricane season that waits.
Roof link can be contacted by a homeowner in the North Florida area at the following address:
Roof Link Inc.
2730 Isabella Blvd.
Suite 50
Jacksonville Beach, FL 32250
(904) 900-2801
http://www.roofingjacksonvilleflorida.com
About Roof Link Inc.
Garrett Wadford started Roof Link Inc. to be an all-purpose contracting company in the state of Florida. This Jacksonville native has built his company over the last decade to be one of the most in demand companies currently performing roofing contracting work for homeowners. By offering low prices for repair work and replacements, Roof Link Inc. has been able to help an increasing amount of homeowners that have no insurance protection. Roof Link keeps up with the changing trends in the roofing industry to always provide the best supplies and most qualified contractors to help keep homeowners safe from severe weather.