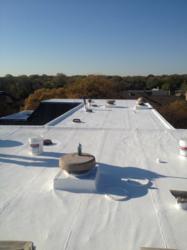 Coat it and forget about it..
Dallas, TX (PRWEB) April 23, 2013
Legends Roofing, a roofing contractor that has served Dallas since 2002, is proud to now be offering Gaco coatings. Gaco coatings are protective, low slope roof coatings that are Energy Star rated, which will keep buildings/homes cool in the summer and help the environment.
Gaco roof coatings are an elastomeric silicone rubber coating that is applied to roof substrates. It's a coating that will protect roofs against leaks and severe weather. Gaco is a bright, white reflective color which will keep a building cooler in the summer and will result in lower energy bills.
As an Energy Star-qualified roof product, Gaco can lower roof surface temperature by up to 100F, which helps reduce the amount of air conditioning needed in buildings, and can reduce peak cooling demand by 10-15 percent.
The product outperforms and outlasts acrylic, urethane, asphalt or Hypalon® coatings. It has a 50-year limited warranty and has been in business since 1955. It can withstand permanent ponding water, which is when water is diverted into a lower area that has no outlet, causing that water to pool.
The Legends Roofing team will provide reliable and high-quality workmanship, tailored to their customers' individual needs. Building representatives and/or Homeowners interested in the new Gaco coatings options can contact Legends Roofing at (972)210-2351 for a free estimate.
About the company:
Since 2002, the experts at Legends Roofing have been using the highest quality products while applying the highest quality roofing standards at all time. As a full service, licensed and insured roofing company they are dedicated to providing customers with an extremely high level of customer service. They understand that a roof repair or replacement is a big investment and are dedicated to providing customers with exactly the right solution. They provide roof repair, commercial roofing, and residential roofing services. For more information, please visit their website at http://www.legendsroofingdfw.com.