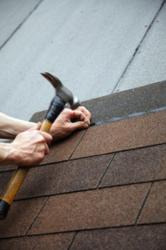 Our team goes the extra mile for our customers.
Allentown, PA (PRWEB) May 28, 2013
Lehigh Valley based roofing contractor, Master's Construction, is proud to announce the launch of their newly built website, http://www.RoofingAllentownPA.net. The new site is an addition to several other sites owned by the roofing and construction contractor however, this site is 90% focused on their primary services; roof repairs and roof replacements. The site is designed to give customers a more focused access to detailed information about the company's roofing services.
The new website was designed for a friendly & easy to use interface for customers while delivering the primary message that Master's Construction is an expert Allentown PA roofer with many years of experience. One notable feature of the new site is the area dedicated to customer reviews and testimonials. The customer feedback in this section is delivered in a multimedia format, including text and video.
Sandra Hinkle, owner of Master's Construction, said, "We've invested in a complete Internet presence because we understand that consumers today are using the Internet and search engines like Google to find the services that they are looking for." Hinkle goes on to say, "while we are active on Facebook and Twitter, our websites help people, who are not already familiar with us, connect with our company online and see what Master's Construction is all about."
Hinkle is confident that her company can handle whatever the Lehigh Valley region can throw at her crews. She closes by saying, "We take great pride in our staff, the experience and education that every one of our team members has, and the special attention we that give to each our customers. Our team goes the extra mile for our customers, as is evidenced by our great testimonials."
Master's Construction is a cutting edge roofing contractor serving the greater Lehigh Valley area. They perform roof replacements, roof repairs as well as all other exterior services related to homes such as; siding, windows, decks and patios.