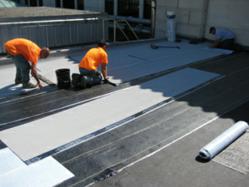 A self-adhering system used in a multi-ply configuration eliminates the need for torch, cold adhesives, or asphalt, making it an ideal solution for schools, hospitals, or anywhere odour is a problem
Toronto, Canada (PRWEB) April 26, 2013
Self-adhering modified bitumen roofing systems are unique and require special attention to ensure a long-term watertight solution. To help ensure proper application of its products, Garland Canada recently posted a new video on the company's Garland Roofing Application Videos page, depicting the proper application procedures for its Self-Adhering StressPly SA FR Mineral SBS modified bitumen membrane.
The video features installation details for the complete Garland StressPly SA FR Mineral self-adhering system, including base sheet, cap sheet, and flashing details.
As a training tool for contractors, the Application Excellence series features installation videos for a number of Garland's most popular products, including modified flashing details, a liquid flashing system, R-Mer Edge Fascia and Snap-On Coping, R-Mer Span roofing systems, hot-applied modified bitumen systems, the White-Stallion restoration waterproofing system, and VOC-free Green-Lock adhesive.
According to Charbel Boulos, P.Eng., president of Garland Canada Inc., "A self-adhering system used in a multi-ply configuration eliminates the need for torch, cold adhesives, or asphalt, making it an ideal solution for schools, hospitals, or anywhere odour is a problem. Providing contractors with a how-to application video promotes best practice installation procedures, assuring customers their self-adhering systems will achieve optimum service-life expectancy."
Garland Canada Inc. provides solutions for today's commercial building industry to private and public sector customers coast to coast. Founded in 1987 as a fully owned subsidiary of Garland Industries, Garland Canada is a multi-million dollar business with employees strategically located throughout the country, who help stimulate each regional economy by working with an extensive network of locally based roofing contractors to install high-performance roofing, wall, and flooring systems.
For a roof or building envelope inspection or for more information, visit http://www.garlandcanada.com or call Marisa Rea at 1.800.387.5991.