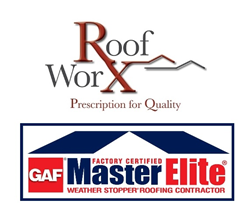 While our certifications and accreditations are wonderful, we are most proud of our customer satisfaction reviews. – Bart Thomas, President, Roof Worx, LLC
Thornton, CO (PRWEB) June 08, 2016
Roof Worx, LLC (bestrooferco.com) earns the nation's highest roofing industry honors - GAF Master Elite Roofing Contractor Status. As GAF Master Elite Roofing Contractors, Roof Worx ranks among the top three percent of roofing professionals nationwide adhering to the GAF stringent standards including proper licensing and insurance, a respectable reputation, and a commitment to state-of-the-art technical training. In addition, this status also allows Roof Worx to offer extensive labor and material warranties to customers.
In addition to GAF Master Elite Roofing Contractor Status, Roof Worx, LLC, is Better Business Bureau A+ Accredited, is featured on Tom Martino's Referral List and Team Dave Logan, as well as a member of the National Roofing Association.
"Roof Worx began serving the Denver and Boulder areas in 1999 offering a full range of services including residential and commercial roofing, gutters, windows, siding and solar panels with the belief that each project deserves attention to detail, expert craftsmanship, and exceptional service. That commitment to quality permeates every project we take on – no matter the size." – Bart Thomas, President, Roof Worx, LLC
Roof Worx, LLC delivers premium roofing services to Thornton, Denver, Boulder, Aurora, Sterling, and the surrounding area. Across the region, Roof Worx promises unparalleled roofing services at the hands of well-qualified professionals with gold standard service at competitive prices. In addition to Thornton roofing services, Roof Worx also performs outstanding services including gutter, window, solar panel, and siding installation and repair.
"Our professional roofers hard work and attention to detail has earned the company many commendations as well as the trust of their clients. And while our certifications and accreditations are wonderful, we are most proud of our customer satisfaction reviews." – Bart Thomas, President, Roof Worx, LLC
Roof Worx, LLC was founded in 1999 intent on providing homeowners with the best workmanship available. Now, 17 years later, dedication to that original goal has made Roof Worx one of the most respected Denver roofing contractors. Every project is completed with honesty, integrity, and superior quality, and accompanied by the Roof Worx ironclad guarantee.
About Roof Worx, LLC:
Roof Worx, LLC has proudly served the Thornton area including Denver, Boulder, Aurora and Sterling area for more than 17 years delivering the highest quality in roofing services as well as gutter, window, siding, and solar panels. With an understanding that a customer's home is often their greatest investment and a source of tremendous pride, the Roof Worx team strives to ensure each customer is completely satisfied from the initial estimate to the finished product.
Roof Worx LLC, 155 E Boardwalk Drive, Fort Collins, CO, 80525, Phone: (970) 568-5450, http://www.bestrooferco.com/