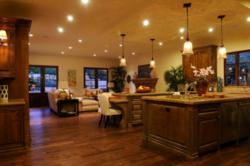 At LA Build Corp. we specialize in custom Room Addition in Los Angeles and the surrounding areas. We offer you our years of experience and free in house consultation and evaluation. 877-628-5292
Los Angeles, California (PRWEB) November 15, 2012
Room additions are delicate projects that can either substantially increase a home's worth or waste money with a poorly planned execution. With the right construction company or general contractor in Los Angeles, return on investment can be very high which is very satisfactory if one is planning to sell their home to get a new one or to simply increase the satisfaction of the people living there. While buying a new home is an option to get more space, LA Build Corp can perform room additions that can fulfill the same goals or more for a much lesser cost.

For properties with more space and clearances, horizontal additions are the options for adding more space without much restrictions. The new rooms can be similar to the current rooms but made with a different function in mind and new foundations. Smaller properties can have the option of getting a vertical addition such as an upstairs bedroom or bathroom. The construction of can involve raising the roofline or extending the roof with a shed or gable dormer. For a more inexpensive way of adding a room, LA Build Corp can also perform the addition of a deck, screened-in porch, or sun room. With central heating and air conditioning optionally not required with these economical room additions, the construction can be fairly quick. Many room additions in Los Angeles involved these "3-season" rooms.
Reasons for Investing in a Room Addition.
Extra Space: As a family grows, so does the need for space increases. Room additions in Los Angeles can give the extra space needed for more specialized rooms with specific purposes or to extend one of the current rooms. There are also options that can cater to different budgets.
More Economical and Less Stressful than Buying a New Home: For many, the main reason why people buy a new home is to get more space. However, room additions are still relatively much less expensive options than buying a new home and people get to keep what they already like in their current setup. Since a room addition is a smaller project, clients can avoid the stress of making more costly decisions from buying a new home.
Added Special Features: The addition of specialized rooms such as home entertainment room, outdoor dining area or libraries can enrich the experience of its inhabitants. Aside from the family enjoying its varied rooms, there can be more options for where small events can be celebrated. Outdoor living space can make people enjoy doing their hobbies while breathing fresh, outdoor air.
Growing Needs: As kids grow to be teenagers, so does their need for space. An additional bathroom or a larger family room can fulfill the needs of teens. Instead of going somewhere else to socialize, friends can be invited in a familiar setting. Growing children will develop their own sense of privacy when they stop sharing rooms and get their own.
Home Remodeling: Adding extra space can allow homeowners to remodel existing rooms for expansion while adding another room for another function. With a bigger number of people living at home, expanding the kitchen might be a good idea while being able to get a new dining area.
Interested homeowners are invited to contact LA Build Corp for free estimates and consultations on room additions and other services. Give them a call at (877) 628-5292 or visit their website. Their years of experience and their stellar grade of A with the Better Business Bureau ensure clients will get the best customer experience and satisfaction.
(877) 628-5292
Tusana Web Design & Internet Marketing