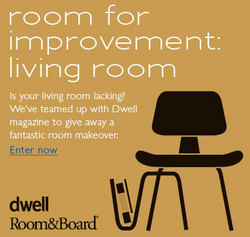 Minneapolis, MN (PRWEB) July 12, 2010
Room & Board has partnered with Dwell.com to offer a $10,000 living room makeover contest!
One grand prize winner will win $10,000 in Room & Board living room furniture. They'll also receive a visit from a Room & Board Visual Specialist who will give expert advice on how to make the most of their space, one piece of furniture at a time.
All they have to do is submit photo's of their living room and describe why their home needs a modern reboot.
Online voting begins on August 5th.
How To Enter
To be considered, your submission must contain:

Completed entry form with all required fields filled out in full
3 photographs of your living room
Winner Selection and Prize
Judges will pick the top 20 finalists, but it's up to the online community to vote for the grand prize winner! Online voting begins on August 5.

$10,000 Room & Board living room makeover
Entry Criteria
In order to be eligible, simply submit:

1 photograph of your living room in its entirety
1 photograph of you in your living room
1 photograph of the most "tragic" piece of furniture or element in your room most in need of help from Room & Board
About Room & Board
Room & Board is a Minneapolis-based modern furniture retailer offering unique home furnishings that combine classic, simple design and exceptional quality using natural materials. More than 85 percent of its furniture is manufactured in America. Room & Board is proud of its commitment to supporting American manufacturers and small, family-owned businesses. For more than 29 years, Room & Board professionals have helped people furnish their homes, translating their passion for well-designed home furnishings into outstanding value for customers. Room & Board has stores in Minneapolis, Chicago, Denver, Orange County, Los Angeles, San Francisco, New York , Atlanta, and opened its twelfth store in Washington, D.C. in June. Its unique collection of home furnishings is also available nationally through Shop From Home, which includes a catalog, Web site and team of knowledgeable Design Associates to help with the selection process and professional, in-home delivery service. For more information on Room & Board, visit online or call 800-486-6554 to order a catalog.
###