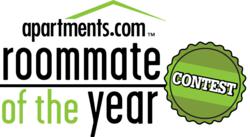 We want to encourage anyone who thinks they have a dynamic way of demonstrating their roommate-worthiness to enter now for their chance to win this life-changing prize.
Chicago, IL (PRWEB) May 04, 2012
Apartments.com is looking to crown America's best roommate in its fourth annual Roommate of the Year video contest, currently underway at http://www.roommateoftheyear.com. The lucky roomie who wins the grand prize in this national online video competition will be living a little easier with a year of free rent plus $10,000 in cash. Learn how to enter the contest, check out current competition and view past winning entries for inspiration at http://www.roommateoftheyear.com. The deadline for entries for the contest is noon EDT on May 21, 2012.
Last year, Jesse McLaughlin, who is a resident of Arlington, VA and a security analyst at the U.S. Patent and Trademark Office, bested video entries that came in from across the country to be crowned Roommate of the Year by Apartments.com. McLaughlin earned the title and the grand prize with his sports parody video entry entitled Roommating MVP!, showcasing a play-by-play breakdown of his superior roommate abilities. Video entries from previous winners can be seen at http://www.roommateoftheyear.com. Recently, McLaughlin upgraded his roommate status to happily-ever-after, when he proposed to his girlfriend, who is also his roommate.
"With just a few short weeks left in the call-for-entries period, we are excited by the number of entries pouring in at http://www.roommateoftheyear.com," said Tammy Kotula, public relations and promotions manager for Apartments.com. "During this critical entry review time of the contest, it's encouraging to see how many fabulous roommates are out there. As the entries continue to roll in, we want to encourage anyone who thinks they have a dynamic way of demonstrating their roommate-worthiness to enter now for their chance to win this life-changing prize."
How to Enter 2012 Apartments.com Roommate of the Year Grand Prize Contest
Get out the video camera, get creative and get one step closer to winning free rent for a year, plus $10,000 in cash and the coveted Apartments.com 2012 title of Roommate of the Year. Renters across the nation are invited to enter the Apartments.com Roommate of the Year contest by submitting a video entry of two minutes or less to http://www.roommateoftheyear.com.
Entrants are challenged to showcase the specific attributes that qualify them to be Roommate of the Year by featuring their inner roomie in one of the four contest categories. For detailed information on how to enter, including specific video instructions, an official entry form and contest rules, go to http://www.roommateoftheyear.com. All entries must be received by noon EDT on May 21, 2012.
Roommate of the Year Contest Categories
Apartments.com Roommate of the Year contest entrants should distinguish themselves from all of the other roommates around the country. Finding the category that best defines their special roommate skills is job number one. Categories are:

It's not a glamorous job, but somebody has to do it. Making sure the electric bill gets paid each month and scrubbing the microwave after someone's "soup explosion" two months ago sometimes makes you feel like you are running a daycare in your apartment. But all that work is about to pay off big. Show us how you manage the household while still maintaining your sanity and a year of FREE Rent could leave you with one less item on that LONG to-do list.
Sometimes the best roommates aren't even human. They may not pay rent, but pets are great at making us laugh or helping us get through tough times. Show us what makes you the best roommate to your pets including games you play together or tricks that they have learned and that freeloader can start pulling his or her weight by helping you win FREE Rent for a Year.
Do you wash out and reuse plastic baggies? Switch out energy-guzzling 150W bulbs for CFLs? Know what "1," "3," "5," or "7" means on plastic bottles? If you're the roommate who makes living "green" a priority, this is your category. Show us your efforts to help save the planet and we could be recycling a year of FREE Rent into your bank account (and promising to turn off the lights when we leave a room!).
If you have special roommate qualities that don't fit the categories, or don't want to commit to only one area of roommate greatness, use this entry to submit your video. Get crazy, get creative! But don't just tell us why you're the best roommate – show us – and you could win FREE Rent for a Year.
(MORE)
Renters' entries will be judged with equal weight on (1) originality and creativity, (2) overall "wow" factor, (3) persuasive argument and (4) style and production. Judging will take place in three stages.
How to Become Roommate of the Year and Win Free Rent for One Year Plus $10,000 in Cash
All entries will be narrowed down to a field of up to 15 finalists, selected across all categories by a panel of judges looking for entries that best fit the criteria for Roommate of the Year. Once the finalists are selected, America, along with the Apartments.com panel of qualified judges, will vote for their favorite roomie using the judging criteria to narrow down the competition to five winners. From the five winners, one grand prize winner will be named and receive free rent for one year, plus $10,000 in cash, along with roommate bragging rights. The four runner-up winners will each receive $500.
About Apartments.com
Apartments.com (http://www.apartments.com) is a leading national apartment Internet listing subscription service with more than 50,000 unique addresses representing millions of rental units from managed properties, newspaper classifieds and for-rent-by-owner properties. By incorporating the most relevant products to reach renters including personalized searches and highly visual ads featuring live chat, real-time rent, online video walk-through demonstrations, professional photography, a mobile website and iPhone and Android app, Apartments.com creates easy access to its listings. Providing unmatched exposure to its advertisers through an intuitive name, strategic search engine placements, featured partnerships including Yahoo! Real Estate, Univision and more than 120 newspaper websites and innovative emerging media, Apartments.com reaches millions of renters nationwide, driving both qualified traffic and highly-engaged renters to leasing offices nationwide. Apartments.com is a division of Chicago-based Classified Ventures, LLC. The Apartments.com network of apartment rental websites includes Apartment Home Living (http://www.apartmenthomeliving.com), a leading social media apartment website distinguished by a "live for fun" community experience, proprietary lifestyle matching and local living guides to help renters find their perfect place to live.