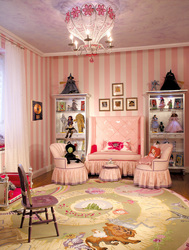 there truly is no place like home, especially for a child
New York, NY (Vocus) October 12, 2010
Dorothy's Room is designer Zoya Bograd's Wizard of Oz themed room from the 2009 Kips Bay Decorator Show House. Bograd is known to have a passion for designing children's bedrooms with whimsical and dreamy details and feels that "there truly is no place like home, especially for a child". She not only adds a great sense of style to the spaces, but also strongly believes in education and bringing that into her designs. She does this through strong themes based on stories and quotations that children can learn from. 'Dorothy's Room' becomes a great example of that very philosophy. The room tells the story of the Wizard of Oz through various design elements including a custom area rug depicting the story and a bookcase full of storybooks about Oz and its history, etc...
'Dorothy's Room' has been featured in the New York Times, NY Social Diary, House Beautiful, Newsday, and Bloomberg.com as well as popular Oz-centric publications The Ozmapolitan and Baum Bugle. The video diary of how 'Dorothy's Room' was made is available on Youtube as well as the Rooms By ZoyaB website as of October 5, 2010. The video explains Bograd's philosophy on design as well as gives you a great look inside the room.
Bograd is the owner of Rooms By ZoyaB, a multi-line trade showroom in the New York Design Center, as well as 'RoomsByZoyaB.com', her newly launched website that offers heirloom quality baby, children, and adult furnishings and accessories. The website also has features that include Furniture by Room and Themes to make the design process easy for clients designing from home. Bograd feels that 'our customer ranges on a wide spectrum and everyone, no matter where they live or what they do, should have access to great design'.
The 2010 Kips Bay Showhouse will be held from October 14th through November 11th at 106 East 71st Street, New York, NY. Hours of operation will be Monday through Sunday from 11am—5pm with later hours on Tuesday and Thursday evenings until 8pm. Doors open from noon to 5pm on Sundays. Admission is $30.
For more information on Rooms By ZoyaB, contact 212-726-0006 or visit http://www.RoomsByZoyaB.com.
For more information on the 2010 Kips Bay Designer Show House, visit http://www.KipsBay.org.
###