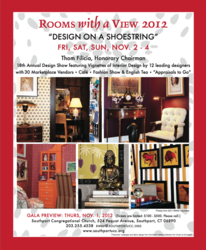 Part of the excitement of design is when you come upon a find - that perfect piece you see and know it has such good character that it will inspire the rest of the room's design.
San Francisco, CA (PRWEB) September 27, 2012
Allison Caccoma, of New York City and San Francisco based Caccoma Interiors, is thrilled and honored to be among the designers chosen for the November 2012 showhouse event Rooms With A View. Each year, Rooms With A View -- the brainchild of interior design legend Albert Hadley -- transforms Southport Congregational Church, in Southport, Connecticut, into a dazzling showhouse featuring twelve vignettes designed by prominent interior decorators. This year's showhouse theme 'Design On A Shoestring' is inspired by design legend Albert Hadley's first magazine editorial entitled 'Summer On A Shoestring – Before and After' for Vogue in 1959. With this inspiration, Allison will create a vignette around a petite carved and gilded slipper chair previously owned by Mr. Hadley. As Allison says, "Part of the excitement of design is when you come upon a find - that perfect piece you see and know it has such good character that it will inspire the rest of the room's design. That's exactly what Mr. Hadley did. When I recently discovered this chair of his, I knew it was a treasure." As a protégé of Bunny Williams, who trained under Albert Hadley, Allison continues the Parish Hadley design principles and inspirations but with her own distinctive flair.
Rooms With A View will take place November 1st through the 4th at the Southport Congregational Church in Southport, Connecticut with noted interior designer Thom Filicia as the Honorary Chair. The Preview Party will be held on November 1st with silent and live auctions and a retail boutique. To support this fine community organization and discover 12 charming room vignettes that will inspire your own design on a shoestring, purchase your tickets for this sell out event by calling 203-255-4538, emailing rwav(at)southportucc(dot)org or by visiting http://southportucc.com/RoomsWithAView/tabid/183/Default.aspx.
About Allison Caccoma
Former Wall Street treasury salesperson and native New Yorker, Allison Caccoma received her design training at the New York School of Interior Design, earning her degree in Applied Science. Upon graduation, she had the good fortune to go to work at the firm of design legend Bunny Williams. Under William's seven-year tutelage and mentorship, Caccoma had the opportunity to design and decorate some of the country's most significant private homes including formal estates in Ohio and Connecticut, and Bunny Williams' personal seaside villa in Punta Cana, Dominican Republic.
Following one year with respected contemporary designer Jeffrey Bilhuber, she set out on her own, founding Caccoma Interiors in 2006.
Caccoma's residential design projects span the United States, including homes in New York, Connecticut, Rhode Island, Florida and California. She brought her innate New York style sensibility and sources to California in 2011, opening an office in the Presidio Heights neighborhood of San Francisco.
Published in House Beautiful and At Home magazines, Caccoma's work can be viewed on her new website at http://www.caccomainteriors.com.
Caccoma Interiors Design Philosophy and Services
Allison Caccoma's design philosophy embraces a modern luxury that is rooted in classicism and inherent timelessness. Mixing the whimsy and elegance of the past with fresh color palates, unconventional textures and materials along with unusual objects, she helps clients define and express their own tastes and visions to create a comfortable home that will endure ever changing trends.
Caccoma's experience and services are comprehensive and include architectural consultation and construction collaboration to compliment all aspects of the decoration of a home. Caccoma offers her considered advice and inspiration to clients, resulting in homes and spaces that are inviting, engaging and luxurious yet inherently livable.