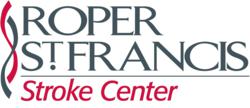 "The Joint Commission's Certificate of Distinction for Primary Stroke Centers recognizes only those centers that make exceptional efforts." Roper Hospital CEO Matt Severance
Charleston, SC (Vocus/PRWEB) April 19, 2011
Roper Hospital's Stroke Center has again earned The Joint Commission's Advanced Certification as a Primary Stroke Center, an honor recognizing that the program complies with the highest national standards for safety and quality of care.
"The Joint Commission's Certificate of Distinction for Primary Stroke Centers recognizes only those centers that make exceptional efforts and have the critical elements to achieve long-term success in improving patient outcomes," said Roper Hospital CEO Matt Severance. "This is a signal that Roper's Stroke Center is effectively managed to meet the unique and specialized needs of stroke patients."
A Leader in Stroke Care
As a leader in stroke care, Roper Hospital became the first Primary Stroke Center in the Lowcountry in 2006, and has since also been recognized by the American Stroke Association as a Gold Performance Achievement Award recipient.
The Joint Commission's Primary Stroke Center Advanced Certification is based on the recommendations for primary stroke centers published by the Brain Attack Coalition and the American Stroke Association's statements and guidelines for stroke care.
"In stroke, time is brain," explained Stacey Seipel, MSN, RN, ONC, a clinical nurse specialist and Roper Hospital's Stroke Program coordinator. "Research confirms that immediate treatment of a stroke within three hours of symptom onset at a hospital with a dedicated stroke team provides the best chance for a recovery that also minimizes long-term effects."
In addition to strictly following the American Stroke Association's evidence-based guidelines, Roper Hospital's stroke team provides individualized, expert care. A team of specialists, including physicians, nurses and rehabilitation therapists, provides comprehensive medical treatment for stroke, from immediate management for people experiencing a stroke to expert rehabilitation care for those recovering and patient teaching about lifestyle changes to decrease the risks of future strokes.
Roper Rehabilitation Hospital among the Nation's Top Facilities
In March 2011, Roper Rehabilitation Hospital was again recognized among the nation's top facilities for stroke specialty and adult inpatient care by the Commission on Accreditation of Rehabilitation Facilities. Patients at the Rehab Hospital received personalized care from an experienced team of physicians, nurses and physical, occupational, and speech language therapists to help them recuperate from the debilitating side effects of stroke.
Stroke is a leading cause of serious, long-term disability in the United States, with about 4.7 million stroke survivors alive today, according to the American Stroke Association. Every year about 795,000 people experience a new or recurrent stroke, which is the nation's third leading cause of death. On average, someone suffers a stroke every 40 seconds and someone dies of a stroke every 3.1 minutes.
The Three "R"s of Stroke
The American Stroke Association urges everyone to learn the three Rs of stroke:

Reduce the risk.
Recognize the symptoms.
Respond by calling 911 (or your local ambulance service).
"Stroke is an emergency and should be treated as such," Seipel said. "The greatest chance for recovery from stroke occurs when emergency treatment is started immediately." Emergency Departments at Roper Hospital in downtown Charleston, Bon Secours St. Francis Hospital in West Ashley, and Roper Hospital Diagnostics & ER facilities, in both North Charleston and Moncks Corner, are designated Stroke Network locations with staff trained to respond quickly and expertly when time is of the essence.
Most Common Symptoms of Stroke
The following are the most common symptoms of stroke. However, individuals may experience symptoms differently. Symptoms may be sudden and include:
Weakness or numbness of the face, arm, or leg, especially on one side of the body
Confusion or difficulty speaking or understanding
Problems with vision such as dimness or loss of vision in one or both eyes
Dizziness or problems with balance or coordination
Problems with movement or walking
Severe headaches with no other known cause
To learn more about Roper St. Francis Stroke Center, please visit http://www.rsfh.com/stroke.
####