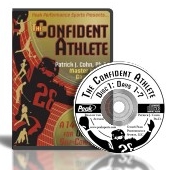 But Rory was able to retain his confidence, improve his mental game, and convert the meltdown at the Masters into the motivation to win.
Orlando, FL (PRWEB) June 27, 2011
Rory McIlroy had one of the worst days of his life in April. He shot a final round 80 at the 2011 Masters and blew a six-stroke final round lead. Just two short months later, on June 19, he won the 2011 US Open and broke the 36-hole scoring record for the Open Championship. How did this golfer go from Masters choker to US Open Champion in just two months?
Dr. Patrick Cohn, a leading sports psychology expert, founder of Peak Performance Sports, and author of The Confident Athlete Workbook and CD series, says McIlroy utilized critical mental game strategies to turn the Masters meltdown into a US Open triumph.
"Blowing a 6-shot lead in the masters could sap many good golfers' confidence," says Cohn. "But Rory was able to retain his confidence, improve his mental game, and convert the meltdown at the Masters into the motivation to win."
McIlroy had the mental game smarts to avoid dwelling on his mistakes. Instead, he focused on the positives. He turned his big mistakes into even bigger character-building lessons, says Cohn, who has provided sports psychology services to top athletes in golf, auto racing, hockey and motocross.
"I've got to take the positives, and the positives were I led this golf tournament for 63 holes," said McIlroy in the press room after his final round at the Masters. "You know, I'll have plenty more chances. I know that."
McIlroy turned his negative experience into a commitment to win, explains Cohn. "It was clear watching him compete at the US Open that he learned a lot from his Masters experience and turned adversity into triumph," says Cohn, author of the books, "Going Low," "The Mental Art of Putting," and "The Mental Game of Golf."
What changes did he make in his mental game to finish strong at the US Open? First, McIlroy's plan was to have a "chip on his shoulder" and feel cocky inside the ropes, explains Cohn. "I needed to be a little more cocky, a little more arrogant on the golf course, and think a little bit more about myself, which I've tried to incorporate a little bit, just on the golf course," said McIlroy.
McIlroy learned that when he's leading in a tournament, he needs to stay in the moment and play aggressive golf. "Many golfers play 'protective golf' when trying to win or finish off a great round, but you have to stay on the offense," says Cohn.
"You can't get complacent. No lead is big enough, so you need to just keep pushing yourself." This is a common lesson Dr. Cohn teaches his students, and it's based on Cohn's 20 years' experience and research in sports psychology. "You can't sit on your lead," Cohn explains. "That's when you get too protective and focus too much on where NOT to hit the ball."
Starting Saturday's round with a big lead at the US Open, McIlroy focused on small goals to keep his mind off the leaderboard. "In sports psychology, we call these mini-goals or process goals," explains Cohn. "These are critical to having a strong mental game. They help athletes stay in the moment, rather than focusing too much on results, such as scores."
Focusing beyond the moment is not relevant and only creates anxiety and tension in athletes, Cohn explains. In addition to staying in the moment, athletes need to ensure they maintain confidence when trying to finish off a win, says Cohn. That's what McIlroy did.
"You have to just go out there, work hard, and believe in yourself. As long as you believe in yourself and believe that you're doing the right things, that's all you can really do," McIlroy said in the media center after his win.
Dr. Cohn provides additional mental game strategies in The Confident Athlete Series, a workbook and CD series that boosts athletes' confidence, composure and focus. To arrange interviews with sports psychology expert Cohn, or for more information about Cohn's Confident Athlete series, contact him at Peak Performance Sports, 1-888-742-7225.
# # #