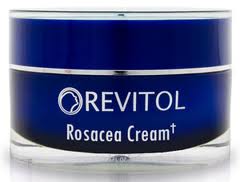 Revitol company created its cream to provide the cover up that can help restore the skin to a more natural appearance.
San Antonio, TX (PRWEB) January 30, 2013
The redness from skin conditions like rosacea can affect the self-image of a man or woman suffering from frequent outbreaks. The red and purple skin tones that are common with this skin condition can be improved with specialty creams or medical surgeries. The Revitol company is now discounting its rosacea cream to help provide a lower purchase price for adults searching for ways to hide affected skin areas. This discount is available to first time buyers online.
Acne can also cause a red or darkened area to the skin that is sometimes mistaken as rosacea. Unlike the temporary breakouts with acne, a person going through a prolonged rosacea outbreak could find that the discoloring of the skin remains for weeks or months. As an alternative to laser surgical procedures, the Revitol company created its cream to provide the cover up that can help restore the skin to a more natural appearance.
Unlike makeup or enhancement concealers, this fortified cream is designed to improve the health of the skin. It is common for infected skin to appear rough due to the infection that usually causes the actual outbreak of rosacea. The oil regulation that is now included in this new cream is designed to bring back the lost moisture to the skin and provide an immediate correction. This relief is in addition to the collagen booster that is created from natural ingredients to provide a firming effect.
The recent release of this new cream online has helped introduce more men and women to the relief that is possible with its use. The new bonus incentive that is paired together with the company guarantee is offered for first time buyers. Select jars of the new Revitol product are packaged with an extra bottle at no additional cost.
This new offer is in celebration of the continued success of this product and one extra incentive to help more people get relief at a lower cost. The Revitol brand is currently not sold in stores and is available strictly on the company website.
About Revitol
The Revitol company is one of the largest names in the health and beauty industry. This company launched its first product in 1996 and has updated its health and wellness lineup annually for more than 10 years. The range of products that are offered are based on natural ingredients instead of pharmaceutical replacements for homeopathic relief. This company provides its distributed products to men and women around the world. The Revitol company offers select discounts from its website online and processes customer orders instantly. This company is one of few in the beauty industry that guarantees the use and purchase of its complete product line.