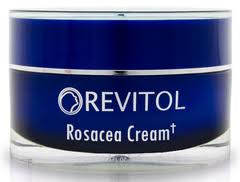 The release of the Revitol cream for rosacea is designed to bring relief and concealment without the high cost.
Seattle, WA (PRWEB) January 22, 2013
The redness, itching and unsightly appearance that a person can have during a rosacea outbreak can now be controlled with a new skin cream product. The Revitol company is now selling its formulated rosacea skin cream that is specifically designed to takeaway the redness of the skin.
This new product is used to cover the breakout areas and restore the natural appearance of the skin. This product is now sold online to help men and women control future outbreaks.
Laser skin therapies are one option to correct the redness patterns now common with various skin conditions. These therapies target the blotchy areas and help restore the natural blood flow to correct the coloring of the skin.
While this laser option is helpful, a person without medical insurance could find this corrective method to be expensive. The release of the Revitol cream for rosacea is designed to bring relief and concealment without the high cost.
Skin that is weakened can be more susceptible to bacterial outbreaks and other environmental affects. Boosting agents are medically available to protect areas near the cheeks, nose and forehead to provide a lifting and firming effect. A collagen booster is now included inside of the Revitol cream to help fight the weakening of skin.
This method of firming the skin can help the skin to combat infection and regain a tighter appearance. The natural ingredients that are inside of this new cream are specifically designed to work together to provide immediate relief and long-term skin restoration effects.
Men and women who sample this new concealing cream have a period of 90-days to receive the full benefits. This extended time period is one that is offered by this company in response to over-the-counter solutions that do not offer a usage guarantee. A person with a moderate to severe rosacea now has the full support of the use of this product to help conceal the side effects and reduce the risk of future skin outbreaks.
About Revitol
The Revitol company released its rosacea concealer cream to provide a relief solution to conceal redness and firm the skin. The natural ingredients that are included with the company products are formulated to provide immediate improvement to men and women sampling the new cream available. Addition of this company to the Natural Products Association has helped to recognize the efforts that are made each year by Revitol for the betterment of health, beauty and wellness in adults. The launch of the company website is one way that consumers can connect with the products that are not currently sold in stores.