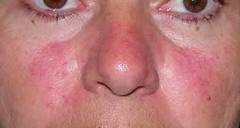 This health and wellness information could benefit adults that have tried other methods that offer little to no results.
San Francisco, CA (PRWEB) December 03, 2012
RosaceaFreeForever.com is a new website devoted to bringing helpful information to men and women struggling with rosacea. A new guide is available from this new website that provides alternative rosacea treatments that do not require a prescription from a doctor or laser surgery. This health and wellness information could benefit adults that have tried other methods that offer little to no results.
The National Rosacea Society reports that over 16 million people in the United States have been diagnosed with rosacea. This skin condition can be confused with acne due to its swelling and redness of the skin.
People of any age are susceptible to this condition and the new Rosacea Free website is helping to provide options to men and women to eliminate it.
Medical surgeries are available to help lessen the redness and swelling that can happen to those suffering from side effects from rosacea. Many people have reported itching, burning and redness that lasts for extended periods of time in between flare ups.
The new guide available for download does include natural therapies that can be applied to reduce or eliminate this skin condition. The author, Laura Taylor, is a medical research practitioner and former sufferer of rosacea. The research and development that she has experienced has been put into a downloadable book format for the first time.
The therapies that are now offered to men and women provide an alternative to medical treatments or surgeries that could be required to correct the redness and dry skin appearance of rosacea. These all-natural methods combine easy to obtain products that could help clear up or eliminate the blotchy red areas that rosacea leaves behind.
Those that access the RosaceaFreeForever.com website can take advantage of the new low price offered to download the guide. A complete 60-day satisfaction guarantee is offered by the author to men and women that try new rosacea treatments at home.
About Rosacea Free Forever
The Rosacea Free Forever website has been launched as an online portal to help men and women that suffer from the rosacea skin condition. Independent medical research and therapies are discussed and offered from this new website to provide alternatives to those that have tried other methods to cure this condition. The Rosacea Free Forever website is one of the resources now online that can be used to learn about rosacea and its side effects and how to eliminate it from the face, arms, chest or back successfully.