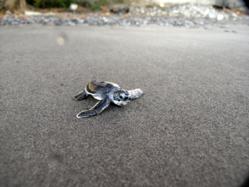 Rosalie Bay Resort owner Beverly Deikel is Dominica's Turtle Lady and she has made an incredible difference in the lives of the magnificent animals.
Rosalie, Dominica (PRWEB) September 27, 2012
Rosalie Bay Resort on Dominica has been honored by Travel + Leisure as a 2012 Global Vision Award Winner for Conservation. The intimate 28-room eco-luxury resort was recognized for its efforts to protect endangered sea turtles on the Caribbean island.
Resort owner Beverly Deikel and her partner Oscar partnered with Wider Caribbean Sea Turtle Conservation Network (WIDECAST) and Field Director Marine Biologist Rowan Byrne to bring the first research and conservation effort for endangered sea turtles to Dominica. The program began more than 10 years ago during construction of the eco-luxury resort.
Rosalie Bay Resort engages locals and guests in opportunities to help protect sea turtles on the island and throughout the Caribbean. Efforts include night patrol during nesting season, clean up on nesting beaches, education programs and data collection. In 2003, there were just seven leatherback nests. By 2010, there were 69 nests of three species of sea turtles – leatherback, hawksbill and green – and a 100% survival with all nesting species protected.
"The effort that one person, Beverly, put into this success story cannot be over-emphasized," says Dr. Karen L. Eckert, Executive Director at WIDECAST. "She had the help of the WIDECAST network, which designed the project and provided field directors, and there was strong support from the Forestry Division and other agencies. But without her determination and funding, nothing would have taken place. Beverly is Dominica's Turtle Lady and she has made an incredible difference in the lives of the magnificent animals."
Travelers who wish to participate in the sea turtle program can visit the Dominica resort between March and October to witness turtles nesting on the black sand beach and watch hatchlings make their way into the Atlantic Ocean.
Rosalie Bay Resort is one of 20 travel companies honored in the 2012 Travel + Leisure Global Vision Awards, which recognize standout efforts to protect and preserve the world's cultural and natural resources. Winners are selected in five categories: Sustainability, Conservation, Community Building, Leadership and Preservation. Awards are determined by a panel of nine expert judges, including a Nobel Prize-winning economist and past Global Vision Award winner.
The 2012 Global Vision Award winners are featured online at http://www.TravelandLeisure.com and in the October issue of Travel + Leisure magazine.
For more information, visit http://www.RosalieBay.com.
About Rosalie Bay Resort, Dominica
Rosalie Bay is an eco-luxury and wellness resort nestled in the foothills of the Morne Trois Pitons where the Rosalie River meets the black sand beaches of the Atlantic Ocean. Rosalie Bay is a pioneer in its environmental efforts with the largest wind turbine in the region and founding Dominica's first protected sea turtle nesting ground. The hand-built sanctuary seamlessly blends into its 22-acre surroundings with 28 spacious rooms and suites, oceanfront spa, wellness program and organic cuisine at Zamaan Restaurant. Stunning natural beauty and elegant, modern touches work in perfect harmony to create a vacation that is simply magical.
About Travel + Leisure
With an eye for the authentic, the innovative, and the irresistible, Travel + Leisure (http://www.travelandleisure.com, @travlandleisure) fuses expert reporting on culture, food, style, and design with stunning photography, transporting readers to the places—and the travel experiences—that matter now. T+L, the monthly title from American Express Publishing and the long-standing authority in its field, has the largest audience of any travel magazine and is an indispensable guide for global nomads. Travel + Leisure has a network of international editions, including Travel + Leisure Mexico, Travel + Leisure Turkey, Travel + Leisure China, Travel + Leisure South Asia, and Travel + Leisure Southeast Asia.