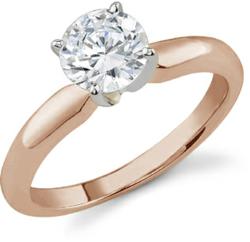 Los Angeles, California (PRWEB) October 09, 2011
As brides and grooms seek unique and non-traditional options in wedding jewelry, Apples of Gold responds to the trend with their line of rose gold engagement rings. The trend towards rose gold in fashion jewelry throughout spring and summer of 2011 is expected to extend to wedding jewelry and continue into fall and winter.
No matter the color or carat, gold consistently wins out as the best-selling precious metal for wedding jewelry. Beloved for its durability, lasting value, and classic appeal, brides and grooms continue to pick gold, despite a range of other options such as titanium or platinum. While yellow gold was the traditional favorite, recent years have seen a marked rise in the popularity of white gold. Though hardly a newcomer to the jewelry world, rose gold has already begun to shine on wedding fashion and jewelry trend lists for this year. The warm, coppery color and elegant look attract men and women alike.
Rose gold has often been referred to as 'Russian' gold, due to its popularity in Russian courts during the early 20th century. But as couples seek more unique wedding jewelry, rose gold, also known as 'red' gold, has taken on a new luster. Apples of Gold is not only responding to the trend, but helping to lead it with their own line of rose gold engagement rings. Many of their classic and bestselling engagement ring styles are customizable to now include rose gold as an option.
Like its yellow and white gold counterparts, Rose gold is an alloy. The mixture of copper is what imparts the characteristic pinkish hue. While yellow gold also contains copper, in the case of rose gold the copper quantity is far greater—contributing a minimum of 25% to the mix. But regardless of the alloy metal, gold's value is based on the quantity of pure gold in the alloy. 14k rose gold contains the same percentage of pure gold as 14k white or yellow gold. All other factors being equal, a rose gold engagement ring will be identical or comparable in price to golds of other colors.
Apples of Gold is excited about the popularity of this new look and proud to offer a collection of fine engagement rings that incorporate rose gold. Couples can select rings of various styles, settings, and stones to match personal style and budget. Rose gold engagement rings maintain the Apples of Gold commitment to delighting their customers with jewelry that is both extraordinary and affordable. Founded in 1999, the company set out to develop a jewelry company that would not only do well, but would do good. Ethical, value-based pricing practices were the foundation. The Apples of Gold commitment to quality in their products and the highest standards for customer service and consumer satisfaction come naturally. In the fine jewelry industry, Apples of Gold is a diamond in the rough.
Contact:
Apples of Gold
Afshin Yaghtin
606 South Hill Street, Suite 717 Los Angeles, CA 90014
Email: marketing(at)applesofgold(dot)com
http://www.applesofgold.com
###