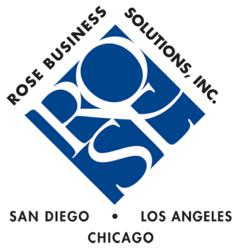 Our decision to partner with Rose Business Solutions was based upon their ability to provide greater resources and support options for our GP customers and their close proximity to Hawaii. ~ Riki Fujitani
San Diego, CA (PRWEB) September 04, 2012
Today, Rose Business Solutions, Inc., a leading U.S. based IT services and business consulting firm, and Microsoft Gold ERP partner, announced the acquisition of the Microsoft Dynamics GP practice of Pacxa, formally Century Computers. This acquisition continues to extend Rose Business Solutions, Inc.'s reach outside of Southern California and will provide greater resources and support options for the newly acquired customer base in the Hawaiian Islands.
Headquartered in Honolulu, HI, Pacxa provides hardware/software, technical expertise, and services to help clients utilize technology to compete in the global marketplace. Century Computers has had a long-standing presence in the Microsoft Dynamics Partner community and has performed services ranging from project-oriented consulting to ongoing support of retail, healthcare, payroll, and financial reporting needs. This acquisition will allow Pacxa to focus on their core offerings of IT technical support, equipment sales, and infrastructure consulting.
"Having an established Hawaii Dynamics GP Practice is strategic for us as we expand our global reach through our Dynamics hosting services of RoseASP and myGPcloud," said Rebecca Bunas, Vice President and Principal of Rose Business Solutions. "This is a great milestone in our continued growth. We are very excited to expand further into the APAC region, and are very pleased to be able to provide additional consulting services & support options for Pacxa's Hawaii Dynamics GP client base."
Riki Fujitani, President of Pacxa adds, "Our decision to partner with Rose Business Solutions was based upon their ability to provide greater resources and support options for our GP customers and their close proximity to Hawaii. We look forward to a long term business relationship."
With a combined customer base of more than 250 clients in the professional services, manufacturing, distribution, retail, and life sciences sector, and an award-winning support team, Rose Business Solutions is well-positioned to capitalize on the expected growth of the ERP cloud market and on-premise services over the next decade.
About Rose Business Solutions
Founded in 1991, Rose Business Solutions is a leading business systems and implementation group in Southern California. It has assisted hundreds of small and mid-sized companies to implement Microsoft Dynamics applications. With a highly skilled and experienced staff of certified accountants and industry professionals, Rose Business Solutions distinguishes itself from other value-added resellers on its high commitment to customer service. In 2000, it founded RoseASP, a division dedicated to hosting financial and accounting solutions and related modules for the company's clients and partners. For more information about Rose Business Solutions, visit http://www.rosebizinc.com.