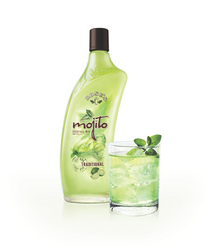 Rose's Lone Star Mojito
Los Angeles, CA (PRWEB) March 18, 2009
Daytime host and author Rachael Ray is once again combining two of her passions - food and music by announcing the second annual Rose's Mojito and Rachael Ray's Feedback: The B-Side party to take place in Austin, Texas during the South By Southwest music conference and festival on March 21, 2009.
The day party will take place at Maggie Mae's in the heart of Austin starting at noon and feature Austin inspired recipes created by Rachael herself, such as Ancho Chicken Soft Tacos with Smokey Chipotle and Black Bean Chilaquiles. Title Sponsor, Rose's Mojito Cocktail Mix will be complementing the menu with signature cocktails for the event including the "Rose's B-Side Mojito", "Rose's Austin-jito", and "Rose's Lone Star Mojito". All three specialty Rose's Mojito drinks are infused with natural mint extracts to give that freshly crushed mint, Mojito experience.
Last year's Feedback event featured performances by bands such as The Stills, The Raveonettes, The Knux and Scissors for Lefty. This year's event will feature performances by The Hold Steady, The New York Dolls, Bob Schneider, The Airborne Toxic Event, Ra Ra Riot, Semi Precious Weapons, The Cringe, Edward Sharpe & The Magnetic Zeros, The Thermals and John Pringle. Details for this year's event can be found at http://www.RachaelRay.com/feedback.
About Rachael Ray
Rachael Ray is a bestselling author and the host of Food Network's popular 30-Minute Meals, Rachael's Vacation and Tasty Travels as well as her daytime syndicated show, Rachael Ray. She is also the founder of the Yum-o! organization, a charitable foundation dedicated to helping parents and children develop a healthy relationship with food. She has also written fourteen bestselling cookbooks and is the Executive Editor of Every Day with Rachael Ray magazine.
About Rose's
Rose's, a brand of Dr Pepper Snapple Group (NYSE: DPS), is one of the nation's most popular mixers. As the bartender's best friend and the trusted cocktail of enthusiasts for over a century, Rose's is one of the many DPS mixer lines offering solutions from the basics of grenadine and tonic water to the perfect Bloody Mary or refreshing Mojito. The DPS portfolio includes Rose's Cocktail Infusions, Rose's Mojito Cocktail Mix, Mr & Mrs T, Holland House, Schweppes and Margaritaville. As the leader in flavored beverages, DPS markets Rose's and 50 other beverage brands throughout North America. For more information on DPS mixers portfolio, visit http://www.mixuptheparty.com or http://www.drpeppersnapple.com. Rose's is a registered trademark of Cadbury Ireland Ltd. used under license by Dr Pepper Snapple Group.
###