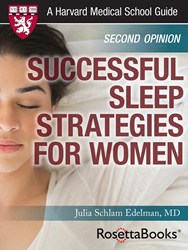 "eBook lines from major institutions are an effective way to reach millions of people worldwide," said Arthur Klebanoff, CEO of leading independent eBook publisher RosettaBooks. "We look forward to developing this line into a leader on health topics."
New York, NY January 8, 2012 (PRWEB) January 09, 2013
A line of eight original eBooks – "A Harvard Medical School Guide" – launched worldwide today on all major sites where eBooks are sold. In the U.S., the digital list price for each eBook is $5.99.
Leading independent eBook publisher RosettaBooks and Harvard Health Publications collaborated on the series' digital release. Harvard Health Publications originates more than a dozen full-length traditional book titles annually. This is its first entry into "digital originals."
"We have a robust social media presence and thought this was the time to serve our constituencies with these short, accessible, informative eBooks," said Dr. Julie Silver, Chief Editor of Books for Harvard Health Publications.
The eBooks are authored by prominent physicians on the faculty of Harvard Medical School. Topics reflect the interests of the tens of millions of people who interact annually with the many Harvard Health Publications programs.
"EBook lines from major institutions are an effective way to reach millions of people worldwide," said Arthur Klebanoff, CEO of leading independent eBook publisher RosettaBooks. "We look forward to developing this line into a leader on health topics."
Harvard Medical School was founded in 1782 and encompasses 18 affiliated hospitals with more than 11,000 faculty physicians. Harvard Health Publications is the media and publishing division of the Harvard Medical School. The goal of its publications is to bring people around the world the most current health information that is authoritative, trustworthy, and accessible.
Harvard Medical School Guides are short, practical original works organized by Harvard Health Publications and drawing on the resources of Harvard Medical School. Titles include:

CEO Psychology: Who Rises, Who Falls and Why by Kenneth M. Settel, MD, with Joseph Cardillo;
Overcome Prejudice at Work by Ranna Parekh, MD, and Carl C. Bell, MD, with Karen Weintraub;
The Making of a Surgeon by Stanley Ashley, MD, and John Hanc;
Your Brain on Yoga by Sat Bir Singh Khlasa, MD, with Jodie Gould;
Getting Your Child to Eat (Almost) Anything by Qian Yuan, MD, PhD, with Robin Westen;
Successful Sleep Strategies for Kids by Dennis Rosen, MD;
Successful Sleep Strategies for Women by Julia Schlam Edelman, MD; and
Taming Your Child's Temper Tantrums by Victoria Rogers McEnvoy, MD, with Karen Weintraub.
About RosettaBooks:
RosettaBooks is the leading independent eBook publisher, responsible for such timeless classics as Brave New World, Slaughterhouse-Five, The 7 Habits of Highly Effective People, the complete works of Winston Churchill, and the first-time digital release in the U.S. of 35 titles from renowned science fiction author Sir Arthur C. Clarke. Publisher of ten Kindle Singles, including Ray Bradbury's The Playground, RosettaBooks has launched nine of them to bestseller status. For more information, please visit RosettaBooks.com and follow the e-publisher on Facebook.
Contact:
Navjot Khalsa I nkhalsa(at)rosettabooks(dot)com |+1.917.338.077x3