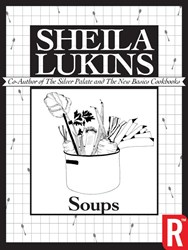 New York, NY (PRWEB) October 04, 2012
The leading independent eBook publisher RosettaBooks has released five eCookbooks by bestselling cookbook author and longtime PARADE magazine Food Editor Sheila Lukins. The themed eCookbooks are sure to inspire amateur and professional chefs alike. The easy to use, original series include: Chicken, Fish, Pasta, Soups, and One Pot Meals. The eBooks are available exclusively from Kindle at $3.99 each at amzn.to/UCsXwu.
"The series of five eBooks celebrates Sheila's enduring appeal to millions of home cooks and her creative flair for combining unusual ingredients and bold flavors in recipes that anyone can make," said colleague Laurie Griffith in a prepared statement.
Lukins succeeded Julia Child as PARADE magazine Food Editor, a position that she held for 23 years. She cofounded the gourmet shop The Silver Palate in New York City with partner Julee Rosso, which served as inspiration for the bestselling recipe book, The Silver Palate Cookbook, which has sold more than five million copies.
The first ever original eCookbooks contain Lukins' most popular recipes from more than two decades as the PARADE Food Editor and categorize them based on theme. Instead of having to search for a particular recipe, readers can go straight to the eBook that discusses the main ingredient they already have in their kitchen.
According to Griffith, Lukins often said that her greatest compliment was when a PARADE reader would tell her that preparing one of her recipes was like "having a friend in the kitchen."
The recipes include a variety of ingredients, from everyday to extraordinary, to suit any occasion. Harried, working families will find fast, easy combinations that are equally good for entertaining. Memorable meals are now just a click away. In addition to recipes, the eCookbooks explain various basic kitchen skills, such as carving a chicken and making homemade chicken broth.
The eBooks make extensive use of Sheila Lukins' original illustrations.
Including The Silver Palate and The New Basics Cookbook, Lukins authored or co authored seven cookbooks, which have sold more than seven million copies, making her one of the most popular published cooks ever.
"I was privileged to be Sheila Lukins' agent for more than 25 years. Perhaps her greatest accolade was a quote that "she changed the way America eats." These eCookbooks, a first for a major bestselling cooking author, will permit everyone to enjoy Sheila's genius," said RosettaBooks CEO Arthur Klebanoff.
About RosettaBooks
RosettaBooks is the leading independent eBook publisher. RosettaBooks publishes such timeless classics as Brave New World, Slaugherhouse-Five, The 7 Habits of Highly Effective People, and the complete works of Winston Churchill . RosettaBooks has published more than 10 bestselling Kindle Singles and publishes lines of titles by Mayo Clinic, the Destination travel series by Northstar Travel Media and Crimescape, a leading true crime series. For more information, please visit http://www.rosettabooks.com.