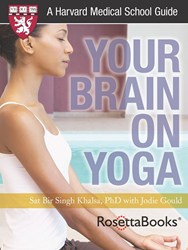 Regular practice of yoga and meditation can reduce heart rate and blood pressure, increase lung capacity, and help treat mental health conditions such as anxiety and insomnia., according to Harvard neuroscientist Sat Bir Singh Khalsa, Ph.D
New York, NY (PRWEB) January 16, 2013
Regular practice of yoga and meditation can reduce heart rate and blood pressure, increase lung capacity, and help treat mental health conditions such as anxiety and insomnia., according to Harvard neuroscientist Sat Bir Singh Khalsa, Ph.D., coauthor of YOUR BRAIN ON YOGA. Dr. Khalsa and co-author Jodie Gould report that yoga and meditation produces other positive health benefits, including reduced stress, better memory perception, and an increased feeling of calm and peace. YOUR BRAIN ON YOGA also details the different types of yoga practices from Ashtanga to Vinyasa.
YOUR BRAIN ON YOGA is part of a new series from Harvard Medical School that will be published exclusively in ebook form.
"We have a robust social media presence and thought this was the time to serve our constituencies with these short, accessible, informative eBooks," said Dr. Julie Silver, Chief Editor of Books for Harvard Health Publications.
"eBook lines from major institutions are an effective way to reach millions of people worldwide," said Arthur Klebanoff, CEO of leading independent eBook publisher RosettaBooks. "We look forward to developing this line into a leader on health topics."
Sat Bir Singh Khalsa, Ph.D., is the Director of Research for the Kundalini Research Institute, Research Director of the Kripalu Center for Yoga and Health and an Assistant Professor of Medicine at Harvard Medical School at Brigham and Women's Hospital. He has also practiced a yoga lifestyle for over 40 years and is a certified Kundalini Yoga instructor.
Jodie Gould is an award-winning writer and author of eight books, including Beautiful Brain, Beautiful You. Her articles have appeared in numerous national publications and web sites.
Harvard Medical School was founded in 1782 and encompasses 18 affiliated hospitals with more than 11,000 faculty physicians. Harvard Health Publications is the media and publishing division of the Harvard Medical School. The goal of its publications is to bring people around the world the most current health information that is authoritative, trustworthy, and accessible.
This title is part of a series of Harvard Medical School Guides that are short, practical original works, organized by Harvard Health Publications and drawing on the resources of Harvard Medical School.
About RosettaBooks: RosettaBooks is the leading independent eBook publisher. RosettaBooks publishes such timeless classics as Brave New World, Slaughterhouse-Five, the works of Arthur C. Clarke, The 7 Habits of Highly Effective People, and the complete works of Winston Churchill. RosettaBooks has published ten Kindle Singles, including Ray Bradbury's The Playground, nine of which are Best Sellers. RosettaBooks can be found on Facebook. For more information, please visit RosettaBooks.com.
Contact:
Navjot Khalsa
Digital Marketing Manager
nkhalsa(at)rosettabooks(dot)com