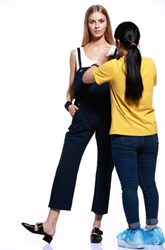 Rosewholesale: Beware Of Choosing Wrong Size When Shopping Clothes Online
Phoenix, Arizona (PRWEB) March 09, 2017
It's no secret that more and more people are shopping for clothes online. In many cases, the prices are considerably lower than the prices in retail stores and the consumer enjoys the added convenience of shopping at home, at any time of day.
Some of the best deals are offered by online retailers in Asia and Europe. There is one major issue, however: determining the right size. In different parts of the world, sizes can vary and ordering the wrong size clothing often negates the convenience of online shopping.
In Asia, there are no standards for establishing clothing sizes, and different brands often measure sizes in different ways. Generally, Asian sizes are smaller than US or UK sizes but there are no hard and fast rules to make an accurate conversion. For example, a "large" size in Asia could be a "medium" or even a "small" in America.
When the online retailer is overseas – like RoseWholesale, DressLily or Asos – finding the right size is more of a problem because of the time and expense involved with re-shipping.
The solution
RoseWholesale (http://www.rosewholesale.com), an online fashion retailer based in Asia, has taken several steps to ensure that customers order the right size. Recently, The company has developed and refined a size chart that enables overseas customers to convert their domestic sizes to Asian sizes.
This chart reminds users to pay more attention to choosing the "right" size instead of their "usual" size. RoseWholesale also offers a user-friendly modeling stats tool that takes into account height, dress size, bust size, waist size, hair color, eye color and shoe size.
DressLily and another online retailer TwinkleDeals also offer modeling stats tools.
Visit https://drive.google.com/file/d/0B0-lss2liHyJV1J3UVdyZ1IzdEU/view?usp=sharing for the optimization of RoseWholesale size chart.
Sizing Tips
Here are sizing tips for selecting the right size offered by RoseWholesale.
1. Measure carefully
It's important to carefully check shoulder width, bust and other relevant measurements for every item. Forget about the "usual" size; do the best to determine the correct size for the item being purchased.
2. Slim styles
When purchasing slim style or micro-elastic fabric clothes, use the sizing chart for every item and choose a size that is 4 cm larger than the measurements.
3. Loose styles
When purchasing loose-style clothing, the Rose Style section of the RoseWholesale website is a good reference. The section can be viewed at the bottom of RoseWholesale home page, every single item page with buyer show, or visit: http://www.rosewholesale.com/buyers-show/
It provides an opportunity for customers to leave reviews and upload photos of them wearing RoseWholesale clothing. This also enables shoppers to see the clothing and read comments from other customers.
4. Returning items
If the return fee is inexpensive, consider buying two different sizes of the same item. Keep the one that fits and return the item that does not. RoseWholesale shoppers can return any item if they pay the shipping fee. In order to save on return shipping fees, DressLily and TwinkleDeals allow returns to US addresses but it is recommended that one should contact customer service of the online retailer for the most accurate information about returns.
About RoseWholesale
RoseWholesale, which is an online store based in China but 43 percent of its sales are generated by US customers, sells fashion apparel and home products at wholesale prices. For example, the company sells a plus-size top for $7 and a hot bikini or one-piece swimsuit for $9.
Contact:
Name: Rose
Email: news(at)rosewholesale(dot)com
Website: http://www.rosewholeslae.com
Phone number: +(1) 888-969-8881