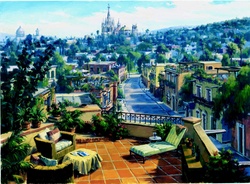 The Rosewood brand is an international symbol of quality and luxury in the hospitality industry and is the ideal partner for our newest development in San Miguel de Allende
DALLAS (PRWEB) December 12, 2007
The corrected release reads:
ROSEWOOD HOTELS & RESORTS ANNOUNCES ROSEWOOD SAN MIGUEL DE ALLENDE
Rosewood Hotels & Resorts is pleased to announce that Bald Mountain de Mexico's ultra-luxury resort currently in development in San Miguel de Allende, Mexico, will be a Rosewood Resort. Opening in late 2009, Rosewood San Miguel de Allende will combine an intimate ultra luxury resort, private residences and a spectacular spa, with the local charm and culture of San Miguel de Allende, a historical colonial town located in the mountainous state of Guanajuato in central Mexico. For more information, please visit http://www.artesanasanmiguel.com
Located within the historical heart of downtown San Miguel de Allende, Rosewood San Miguel de Allende will present 63 beautifully appointed guest rooms, including 15 deluxe guest rooms, 46 spacious suites, and two multi-bedroom presidential suites encompassing more than 1,700 square feet each. All rooms will have luxurious amenities such as fireplaces, balconies and private outdoor terraces, many of which will include a plunge pool. The resort will also feature a Rosewood spa, which will provide guests one-of-a-kind ambience, style and attention to detail. Food and beverage offerings will include casual and fine dining restaurants, a rooftop lounge and tapas bar, and a wine and tequila cellar, which will be available for intimate private dining events.
The resort, which will define luxury in San Miguel de Allende, will also include some of central Mexico's most unique residences, the Artesana Rosewood Residences, which will be available for sale in 2008. Crafted by local artisans with the look and feel of Old San Miguel, the residences will capture the historical essence of Mexico's most beloved town. There will be two-, three-, four- and five-bedroom residences, ranging from 1,800-square-foot casitas to 7,500-square-foot villas. Residents will have full access to all resort amenities.
"We are delighted with Rosewood's involvement in Rosewood San Miguel de Allende and Rosewood Artesana Residences," said Scott Writer, a principal of Bald Mountain de Mexico. "The Rosewood brand is an international symbol of quality and luxury in the hospitality industry and is the ideal partner for our newest development in San Miguel de Allende," said Writer.
"We are so pleased to announce Rosewood San Miguel de Allende and our relationship with Bald Mountain de Mexico," said Mr. John M. Scott III, President and Chief Executive Officer for Rosewood Hotels & Resorts. "This will be Rosewood's third property in Mexico, and just as Las Ventanas al Paraiso, A Rosewood Resort in Los Cabos and Rosewood Mayakoba in Riviera Maya embrace the unique history, architecture and culture of their respective communities, this property will be a stunning complement to the vibrant San Miguel de Allende community. Bald Mountain is an excellent development partner for Rosewood," Mr. Scott added. "Their experience in creating spectacular properties that embrace a communities' architectural, historical and environmental customs perfectly matches Rosewood's guiding principle, A Sense of Place(R)."
Headquartered in Dallas, Texas, Rosewood Hotels & Resorts manages properties worldwide including Rosewood Mansion on Turtle Creek and Hotel Crescent Court in Dallas, The Carlyle in New York, CordeValle in San Martin, California, Inn of the Anasazi in Santa Fe, Las Ventanas al Paraiso in Los Cabos, Mexico, Hotel Seiyo Ginza in Tokyo, Japan, and a triumvirate of world-class Caribbean properties - Rosewood Little Dix Bay on Virgin Gorda, Caneel Bay on St. John and Jumby Bay on Antigua. For more information on Rosewood Hotels & Resorts, please call 888-ROSEWOOD, or visit http://www.rosewoodhotels.com.
Bald Mountain de Mexico SRL (BMM), is a mixed-use development company based in San Miguel de Allende. The Bald Mountain team has impressive experience in resort, residential, environmental, and commercial real estate development. In each discipline, Bald Mountain de Mexico provides seasoned leadership and experienced, professional employees working within a tested and organized administrative system.