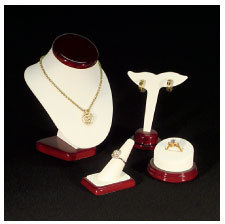 This new catalog provides our customers with the additional products they have been asking for
Pawtucket, RI (Vocus) September 9, 2010 –
Presentation Box & Display (Pres Box) a division of International Packaging, has a brand new catalog of Quick-Ship jewelry boxes and displays just in time for the busy 4th quarter retail season.
This catalog features many new items for 2010, beginning with Pres Box's elegant new line of Rosewood Trimmed Displays. These stylish displays provide the jewelry retailer an upscale look to their store that is sure to increase sales. Pres Box offers the Rosewood Trimmed Displays in every jewelry category to cover all of your applications, with both display elements and trays for Rings, Earrings, Necklaces, and Bracelets.
For 2010 Pres Box has added a full line of Crystal Clear Acrylic Displays to its already popular line up of Frosted Acrylic displays. The new Crystal Clear displays allow your jewelry to seemingly float in your showcase, as the displays "melt away" in the presentation, allowing the customer to view the jewelry without distraction. These acrylic displays are durable, cleanable, and long lasting.
The 2010 Quick Ship lineup again features Pres Box's value loaded White and Beige Leatherette displays. These displays have proven over time to be the best value for the display dollar on the market today. Pres Box tests all of its Leatherette display items for tarnishing and color fastness. You can be sure that your displays won't cause any of your jewelry to tarnish, or turn yellow under the intense lights of your showcase. Pres Box carries Leatherette displays for every jewelry display application, all at top quality and low prices.
New Quick-Ship boxes for 2010 include a new Low Cost wooden box option, The Rosewood Collection. These boxes finally offer the jewelry retailer an elegant packaging option for their nicer jewelry pieces at an affordable price. They are attractively furnished with a white leatherette interior and a crisp white two-piece outer gift box.
For jewelry cleaning, the new catalog will offer several varieties of Gem & Jewelry Cleaners. The liquid cleaners are packaged in an 8 oz. jar with a basket for easy retrieval from the solution and a small brush to remove any larger particles. These cleaners are ideal for cleaning Gold jewelry, Platinum jewelry, Diamond jewelry, as well as Ruby, Sapphire, Topaz, Amethyst, Aquamarine, Garnet, Peridot, and other non-porous semi-precious and precious jewelry. As a bonus all jewelry cleaning jars can be private labeled with the retail jeweler's logo for a nominal up-charge.
"This new catalog provides our customers with the additional products they have been asking for," states Belinda Duva, National Accounts Manager, "supplying our customers with In-Stock Quick-Ship items enables them to react quickly in a changing economy".
"Our customers needs are our most important concern," notes John Cavanagh Vice-President of Pres Box, "providing them with the right product, on time is our number one goal."
For further information on Presentation Box & Display's new Express Catalog, call 1-800-556-7390, or visit http://www.JewelryPackaging.com