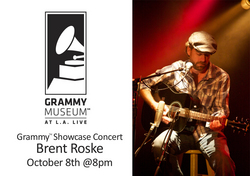 "I love the music video with Dreyfuss!" - TRAFFIK
Los Angeles, CA (PRWEB) September 9, 2010
Emmy nominated director Brent Roske has been launching his music career recently with standing-room only shows at the House of Blues and the world famous Viper Room on the Sunset Strip in Los Angeles. His debut album 'Live at the Viper Room' is a Best Seller on Amazon.com, appeared in Rolling Stone magazine and is now officially eligible for a 2010 Grammy nomination. Roske will be performing a special acoustic concert at the new Grammy Museum @ L.A. LIVE in downtown Los Angeles on October 8th. A limited number of tickets are available through goldstar.com.
During the performance at the Grammy Museum, Roske's new music video 'Goodbye to Hollywood' will be screened as well which features Academy Award winner Richard Dreyfuss as a crazed music video director and Josh Lebar from HBO's 'Entourage' playing Dreyfuss' agent.
"As a promoter who has been featured on the Front Cover of Music Connection Magazine and who has booked virtually every major Hollywood venue in the last 9 years, I feel uniquely qualified to offer my opinion of the top artists I have had the pleasure of working with - and Brent Roske absoultely qualifies as one of those top artists- taking both his music and his career with a seriousness and passion that makes him stand head and shoulders above a crowded field. I wish I had more Brent Roske's to work with- we'd all be better for it." - Troy "T-roy" Berry, Owner and Founder, Surge Event
REVIEW OF 'LIVE AT THE VIPER ROOM': In 'Live at the Viper Room', Brent Roske is positively phenemonal. If you haven't checked out this album yet, you need to! - positivelycelebrity.com
'Roske paints a picture with every song.' - TRAFFIK
"Supporting quality new artists like Brent Roske is an exciting opportunity for Hitch Radio. Concerts like this one at the Grammy Museum mirror in the real world what Hitch Radio creates online - a new music discovery with old friends and new." - HITCHRADIO.com CEO/ Founder Ayinde Alakoye
"Herlo? is as much a lifestyle as it is a brand. Roske's music is straightforward and really speaks to people so we thought it would be a good fit." Deron Lott/ VP Sales/ Herlo? Clothing
The Grammy Museum has already been host to several concerts, including shows by Grammy winners TRAIN, Dave Matthews, Annie Lennox, Mavis Staples, Brian Wilson and John Mellencamp to name a few. All shows take place in the 200 seat, state-of-the-art Clive Davis Theatre on the second floor of the Grammy Museum, including Roske's acoustic performance on October 8th. That evening cello, violin, flute, percussion and guest vocalists will accompany Roske's standard vocals, guitar and harmonica.
The Grammy Museum opened in December 2008 and is a one-of-a-kind, 30,000 square foot museum with interactive, permanent and traveling exhibits over four floors of dynamic and stimulating exhibit space at the heart of L.A. LIVE. This one-of-a-kind entertainment campus provides Los Angeles' residents, commuters, guests and tourists with a world-class sports and entertainment destination.
Brent Roske at the Grammy Museum is presented by Surge Event, herlo? clothing and HitchRadio.com. Roske's album 'Live at the Viper Room' is available on iTunes, Amazon.com and retailers including Amoeba Records.
As this event takes place during the Grammy voting period there is no official affiliation with the Grammy Foundation or the Grammy Museum to comply with eligibility guidelines.
###