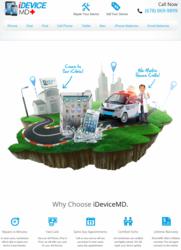 iDeviceMD goes directly to our clients and we complete most repairs in minutes. In addition, we offer an industry best lifetime warranty on our repairs.
Dru Pio - President iDeviceMD
Atlanta, GA (PRWEB) June 11, 2013
iPhone repairs in Metro Atlanta are becoming more and more commonplace as the sales of the iPhone continue to skyrocket all around the nation. According to a study released in September 2012 by SquareTrade, a leading technology protection plan provider, Americans spent over $5.9 billion on iPhone repairs from when the iPhone was released in 2007 to September 2012. With their own spin to gain market share on iPhone, iPod and iPad repairs, iDeviceMD enters the Atlanta market with a unique service approach to device repair, you can come to them or they will come to you. iDeviceMD offers iPhone, iPad, iPod, Mac, tablet and Smartphone repairs in their clinics or they make house calls to make things as easy as possible for consumers. President of iDeviceMD, Dru Pio, wants customers to know that their satisfaction matters - "iDeviceMD goes directly to our clients and we complete most repairs in minutes. In addition, we offer an industry best lifetime warranty on our repairs."
Consumers who are walking around with a cracked iPhone screen or a water damaged iPod can call iDeviceMD to have their device repaired. iDeviceMD is looking to corner the Atlanta market on device repair by offering uncompromised value and lifetime warranties on all repairs. With a focus on customer service, iDeviceMD hopes to win over customers with fast turnaround times and high quality work.
iDeviceMD uses certified technicians to perform repairs. With plans to open several iClinics scattered throughout Metro Atlanta and the ability to make house calls with their mobile device repair service, iDeviceMD hopes to become a household name for iPhone, iPad and iPod owners. The first iDeviceMD iClinic is open for business and is located just a short drive from the intersection of Holcomb Bridge and Old Alabama in Roswell at 1570 Old Alabama Road Suite 201, Roswell GA 30076. Most iPhone, iPad and iPod repairs are replacing cracked screens but, iDeviceMD also replaces dead batteries, sells battery extenders and restores water damaged devices.
In addition to repairing phones, tablets etc. iDeviceMD pays cash for old iPhones, iPads and iPods. According to Dru Pio, "Our clients are usually surprised to find out that their old iPhones, iPads and iPods are usually worth more than what they thought." For more information about Atlanta's newest iPhone, iPad and iPod repair company, please visit http://www.idevicemd.com or call 678-869-9899.