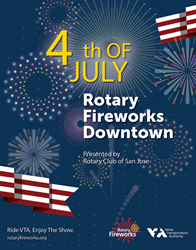 The Rotary Club of San Jose is excited to offer free fireworks to our community again
San Jose, California (PRWEB) June 13, 2017
The Rotary Club of San Jose, Silicon Valley's most prominent humanitarian service club, is pleased to bring back the public fireworks display, Rotary Fireworks Downtown, to San Jose for the Independence Day holiday. The community celebration returns to the skies on July 4, 2017 above Discovery Meadow near the Children's Discovery Museum and Center for the Performing Arts.
Rotary Fireworks Downtown begins approximately at 9:30 pm. The Rotary Club of San Jose encourages families to take public transit to the event. The fireworks soundtrack will be broadcast by Rotary Fireworks Downtown media sponsor Bay 104.5 FM from 9:30-9:55 pm. Details and more at http://www.rotaryfireworks.org/
"The Rotary Club of San Jose is excited to offer free fireworks to our community again," said club president Cindy Faulkner. "The Rotary Club of San Jose is committed to making positive changes locally and around the world. We are actively involved in making San Jose a better place to live. An example of our community work is the Rotary PlayGarden. Since its opening in May 2015, this park has attracted over 250,000 visitors and meets the needs of special needs children in our community."
In addition to world-class fireworks, the Rotary Club will offer a VIP, family friendly buffet dinner. The dinner will be served in front of the Center for Performing Arts, giving attendees a front row seat to some spectacular fireworks. Tickets are $65 adults and $35 children under 12. To purchase tickets http://www.rotaryfireworksvip.com
The Rotary Club of San Jose would like to thank the following community sponsors for their support of the July 4th Rotary Fireworks Downtown; The City of San Jose, Office of Cultural Affairs, County of Santa Clara, Marianne & Carl Salas, Fairmont Hotels, Knight Foundation, Adobe, Kaiser Permanente, The Core Companies and San Pedro Market, Arcadia Development Corporation, Silicon Valley Capital Club, Republic Services, PG&E, San Jose Water Company, Comcast, and the Foley Mortgage Group.
About: The Rotary Club of San Jose
The Rotary Club of San Jose is Silicon Valley's most active and well known service organization. Since it was founded in 1914, members have volunteered more than 3,000,000 hours for community and international service while being at the forefront of efforts to build the infrastructure and social fabric of the community. Most importantly, more than 4,000 business and community leaders have shared the fun and fellowship of being members of the Rotary Club of San Jose while upholding the ideals of humanitarian service and high ethical standards.