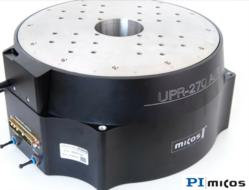 Auburn, MA (PRWEB) July 27, 2012
Air Bearings for Ultra-High Precision, Ball Bearings for High Precision
The positioning stage is available in two versions, high accuracy with ball bearings and ultra-high accuracy with air bearings. The stages were developed for robotics, laser and synchrotron applications as well as semiconductor wafer inspection, and optical metrology.
The direct-drive torque motor renders mechanical worm gears and gear reduction unnecessary increasing both velocity and accuracy.
High Precision Encoders
The stages feature a reference class optical encoder for angular resolution to 0.00002 deg with reproducibility of 0.00003 deg.
The air bearing versions have extremely low wobble of 1.25 μrad as well as low eccentricity ±70 nanometers.
The long-life torque motor provides a maximum speed of 360 °/second
A brochure on the Rotary Stages is available for download at:
http://www.rotation-stage.com/index.php?onl_prw