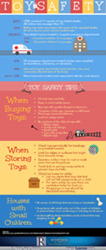 Philadelphia, New York City, New Jersey (PRWEB) December 24, 2015
With the holiday season in full bloom, it is important for parents, grandparents, aunt, uncles, caregivers, etc. to keep in mind some of the dangers that young children may face from the toys they receive this year. Therefore, The Rothenberg Law Firm LLP has recently developed an informative toy safety infographic to help consumers keep children safe this holiday season.
Some of the saddest cases The Rothenberg Law Firm has handled involved children of all ages. Please refer to the toy safety infographic for important safety tips to help keep children safe this holiday season.
The Rothenberg Law Firm LLP has recovered hundreds of millions of dollars on behalf of thousands of clients. The firm has offices across the tri-state area in New York, NY, Philadelphia, PA, Cherry Hill, NJ, Hackensack, NJ, and Lakewood, NJ. An experienced attorney at The Rothenberg Law Firm LLP can be reached at 800-257-4878 or by filling out a free online case evaluation form. The initial consultation with the Rothenberg Law Firm LLP is always free, and the firm only collects a fee if it is able to recover damages for you.