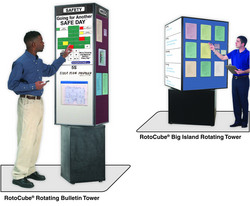 Because of it's compact space saving design, one RotoCube holds the same amount of information as a 4' x 6' whiteboard but has just a 19 inch footprint. You can put them in high traffic areas where they are seen and used. RotoCubes can be viewed from all four sides without crowding or blocking the view and rotate silently in either direction with the touch of a finger
Macedon, NY (Vocus) September 15, 2009
Production managers nationwide are using patented freestanding RotoCube rotating whiteboard bulletin towers..."We need production metrics and instructions out on the shop floor where our associates use them..." says a Michigan Pharmaceutical company "We don't have enough wall space for a traditional whiteboard. Because RotoCubes are freestanding, we can put them right at the point of use in a work cell." An Arizona medical equipment manufacturer adds "The four sides make it easy to organize information. We put a production metric on each side for safety, quality, inventory and productivity. They enable communication between shifts and encourage collaboration among employees."
"Because of it's compact space saving design, one RotoCube holds the same amount of information as a 4' x 6' whiteboard but has just a 19 inch footprint. You can put them in high traffic areas where they are seen and used. RotoCubes can be viewed from all four sides without crowding or blocking the view and rotate silently in either direction with the touch of a finger" says RotoCube spokesman Christian Krapf "Our customers tell us having production metrics and instructions at the point of use is critical to the success of their lean programs. We offer a choice of 24 different side panels from classic calendars to kanban, safety, quality and hourly productivity tracking systems. Each side has a changeable marquee title area. We've even added a larger 33" Island RotoCube which displays over 42 square feet of information"
RotoCubes arrive assembled, ready to use, with magnets and write on accessories for each side panel. You build your own custom RotoCubes online and order them factory-direct only from Magnatag Visible Systems. For more information and to see the RotoCube video, go to http://www.magnatag.com/RotoCube.
Summary:

Freestanding RotoCubes put whiteboard and bulletin board information on the shop floor
Visual communications are important for successful lean manufacturing
Inventory, safety, quality, productivity are key metrics in lean manufacturing
ABOUT Magnatag®: Magnatag® Visible Systems, a division of W.A. Krapf, Inc., designs, manufactures and direct-markets over 2,300 magnetic steel whiteboard kits, calendar boards, maps, and other information display systems for manufacturers, hospitals, schools, business, organizations and government. http://www.magnatag.com or call 800-624-4154.
###