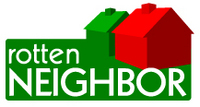 Nosey Neighbors, Pine Hills, FL
Austin, TX (PRWEB) February 25, 2008
Americans fed up with terrible neighbors have been actively contributing data—including the street, city and a description of the bad behavior—to a new real estate search tool that focuses exclusively on the "neighbor-space."
Posts on awful—and the occasional great—neighbors already number in the hundreds of thousands, making a search of the site in virtually any city turn up productive information for the potential renter or homebuyer. The site, RottenNeighbor.com, features user-contributed post titles as diverse as "Nosey Neighbors, Pine Hills, FL" and "The most unfriendly town EVER, Little Falls, NY."
The site has taken on a life of its own, with multiple mentions on The Today Show, Good Morning America, The Early Show, CNN.com, The New York Post and as one of Google Trends' hottest searches. What started with a few local news briefs quickly became a phenomenon that captured the attention of the national press, and has continued to grow virally through word-of-mouth and blog coverage.
Founder Brant Walker, talking about the potential for the site, said that "there has never been anything like this before, where people can use the Internet to do neighbor research before they move. I just think we're giving people an incredibly valuable service here."
Users can search RottenNeighbor by zip code to get access to detailed maps of states, counties, cities and neighborhoods. They can also upload their own good or rotten neighbors to the database, filling in the gaps and ensuring a more complete picture of their respective neighborhoods.
Additionally, real estate agents can use RottenNeighbor as a tool to market their services and feel more secure about the homes they show to their clients.
Added Walker: "We believe that when someone goes to make one of the biggest decisions in their lives—where to live—that they should have the maximum amount of information freely available to them. No one else is giving them this information, so we hope people will turn to RottenNeighbor when they think about moving."
About RottenNeighbor
RottenNeighbor.com is the first real estate search engine of its kind, offering users a way to research a neighborhood based on testimonials from the people who live there and find bad or good neighbors before they move. The site makes money through advertising, offering to the multi-billion dollar real estate industry a one-of-a-kind service, where real estate professionals and organizations can advertise by offering clients information on leads and listings. Founded by Brant Walker, RottenNeighbor is privately owned by @ttenunit.
Contact:
Brant Walker
Brant @ RottenNeighbor.com
RottenNeighbor.com
###