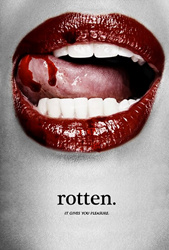 It will offer fresh eyes a reason to explore Houston's growing filmmaker community.
Houston, TX (PRWEB) May 06, 2014
From writer/director Dallas Box, comes, "rotten.", a new short film that delves into the lives of an emotionally broken couple that has turned to killing for sexual thrills in order to keep their love alive. Production is slated for August 2014, and will be shooting in Houston, TX once the film has been properly funded. The film's premise is haunting in a very relatable sense in that it metaphorically represents how it feels to be at the end of a rotten relationship, and it also shows first hand the terror of an innocent person being abducted to perform sexual acts against her will. Bringing attention to the random and frequent nature of these attacks gives the film a dark side. The project's cinematic aesthetics are heavily influenced from films such as: "Eyes Wide Shut," "Blue Velvet," "Revolutionary Road," and David Cronenberg's "Crash."
The film will be shot over the course of 3 days with minimal cast and crew, and a great deal of the budget will be spent on the proper equipment and personell to insure safety during the filming of an intense car chase sequence. This short film is more than a passion project for all involved and in its completion, it will offer fresh eyes a reason to explore Houston's growing filmmaker community. The Kickstarter campaign was launched on April 22nd, and has nearly reached the 50% mark of its $12,000 goal.
This film is taking the form of a 10-12 minute short film for a very specific reason. With the nature of its concept and the educational opportunities it provides, the film will become a calling card for the feature film version. After successful execution on a smaller and more concise effort, the young filmmakers can then advance to a larger scale.
With the generous contributions of passionate individuals, this ambitious dream can become a reality. The filmmakers are going "all or nothing" until May 22nd in raising the rest of their budget. The Kickstarter offers unique perks for each contribution level for further incentive and appreciation.
Making this dream a reality will provide these filmmakers an exciting opportunity to jump into production and finish the film as soon as possible. Be sure to keep up to date, by following "rotten." on Facebook for updates by the minute. "rotten." can also be found on IMDB.