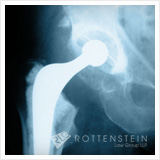 Johnson & Johnson needs to be held accountable for its violation of consumer trust.
(PRWEB) January 23, 2013
As the first trial of a DePuy Hip Recall Lawsuit is set to begin on Friday, Jan. 25, in Los Angeles, the Rottenstein Law Group is concerned about court records that reveal Johnson & Johnson's knowledge that the DePuy ASR hip replacement would cause problems in recipients.
In a 2011 internal analysis of the DePuy ASR, revealed in court records (in In re: Loren Kransky and Sheryl Kransky v. DePuy, Inc., et al., BC456086, Los Angeles Superior Court), Johnson & Johnson subsidiary DePuy Orthopaedics reported the metal-on-metal DePuy ASR hip implant would fail in 40 percent of patients after five years, according to a New York Times story. The analysis followed a 2010 recall, for which Johnson & Johnson reportedly took a special charge of $3 billion, according to the Baltimore Sun. Meanwhile, the company denied a British report on the device's failure, the Times said.
"Johnson & Johnson needs to be held accountable," said Rochelle Rottenstein, principal of the Rottenstein Law Group.
There are currently about 10,000 DePuy ASR lawsuits pending in the United States, and about 37,000 people in the country with ASR implants, according to the Times. About 7,000 of the lawsuits have been consolidated for pre-trial procedures into a federal multidistrict litigation matter in the United States Circuit Court for the Northern District of Ohio (MDL-2197).
DePuy executives had decided to phase out the ASR in 2009, after the U.S. Food and Drug Administration asked the company for additional safety information about the device, according to the Times.
The Los Angeles trial was originally scheduled to begin on Tuesday, Jan. 22, but was postponed for undisclosed reasons.
The Rottenstein Law Group maintains a DePuy ASR Hip Lawsuit Information Center that provides updates on the DePuy recall and information about the device's side effects and tips on the next steps in the process toward evaluating whether DePuy ASR hip replacement recipients should file a lawsuit.
About THE ROTTENSTEIN LAW GROUP
The Rottenstein Law Group is a New York-based firm that represents clients nationwide in mass tort actions. The firm was founded by Rochelle Rottenstein, who has more than two decades of experience as a lawyer, to represent clients hurt by defective medical devices. (Attorney advertising. Prior results do not guarantee a similar outcome.)
Contact:
The Rottenstein Law Group, LLP
Rochelle Rottenstein, Esq.
321 W. 44th Street
# 804
New York NY 10036
(212) 933-9500 (office phone)
(212) 933-9980 (facsimile)
rochelle (at) rotlaw (dot) com
http://www.rotlaw.com
http://www.depuyasrhiplawsuit.com/