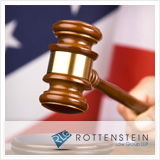 New York (PRWEB) December 07, 2012
In the bellwether case brought by plaintiff Loren Kransky*—one of several matters in a group titled "DePuy ASR Hip System Cases" in Superior Court of California, County of San Francisco—defendant DePuy is moving the court for dismissal of six of Mr. Kransky's fourteen causes of action, all based in state laws. DePuy argues principally in its motion papers, submitted late last month to Judge Richard Kramer, that because the surgeon who implanted Mr. Kransky's ASR XL hip device has testified that he was "well aware that metal-on-metal hip replacements such as the ASR XL hip implant may release metal ions and debris into the body," Mr. Kransky can not as a matter of law prevail on several of his claims.
Loren Kransky served in Vietnam in the 1970s, where he was exposed to Agent Orange, with the result that he qualified for Veterans' Administration disability benefits after being diagnosed with diabetes, neuropathy, arteriosclerosis, and heart problems. At the time of his original hip implant surgery—in 2005—Mr. Kransky was living in North Dakota, but he had his ASR XL hip implanted in Helena, Montana by Dr. Peter Wendt. According to DePuy's motion papers, Dr. Wendt has already testified that he understood that hip replacements, "regardless of the material used to manufacture the device will produce wear debris into the body and surrounding tissue." DePuy asserts that Dr. Wendt "was fully apprised of the risks and never advised Mr. Kransky otherwise."
Accordingly, DePuy argues, under either North Dakota law—which DePuy maintains applies in the case—or Montana law—the only possible alternative, California having no bearing on the matter, despite it's being tried in California State court—Mr. Kransky's claims of negligent recall, strict liability manufacturing defect, negligent manufacture, strict liability failure to warn, and negligent failure to warn must be dismissed. A sixth cause of action, alleging violation of the California Business and Professions Code, is "not constitutionally permissible," according to DePuy because "California has no interest in the application of its laws to this case."
Because Judge Kramer had previously scheduled trial of Kransky v. DePuy to begin on January 13, 2013, DePuy has asked that its motion for summary adjudication of six of the plaintiff's claims be heard on the morning of January 11. Although trials of the first DePuy ASR hip lawsuits are set to begin very soon, Rochelle Rottenstein, principal of the Rottenstein Law Group, urges anyone who believes that he or she has been injured by an ASR device to consult a physician immediately and then speak to a qualified personal injury lawyer. The Rottenstein Law Group maintains a DePuy Hip Lawsuit Information Page at http://www.rotlaw.com/depuy-asr/.
*Loren Kransky (Ellis et al v. DePuy et al) bears LASC case no. BC456086 in Superior Court of the State of California, County of San Francisco.