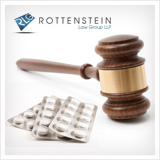 New York, NY (PRWEB) October 31, 2012
The purpose of the Fosamax Injury Lawsuit Center Web site is to not only provide up-to-date information on the progress of legal proceedings, but to also give visitors the opportunity to spread the word about the dangers of Fosamax. The site features the latest social media features that allow for easy sharing on sites like Facebook, Twitter, and Google Plus.
There are currently a large number of Fosamax lawsuits filed against Merck, the manufacturer of the drug, which have been consolidated into a federal multidistrict litigation, as well as a state-level multicounty litigation (MCL). The cases will be heard individually, but have been consolidated to speed up pre-trial proceedings. The federal cases are being presided over by District Court Judge Joel A. Pisano in the U.S. District Court for the District of New Jersey, and Judge Carol E. Higbee is overseeing the state level cases in New Jersey Superior Court in Atlantic County. The cases awaiting trial in New Jersey state and federal courts do not include other lawsuits brought by plaintiffs in state courts throughout the United States.
The Rottenstein Law Group urges anyone whose friend or relative has been prescribed Fosamax or another osteoporosis drug, and has suffered an injury that might be related to the use of the medication, to reach out to that person and recommend that he or she consult a physician immediately, and then speak to a qualified personal injury lawyer. (Attorney advertising. Prior results do not guarantee a similar outcome.)
About THE ROTTENSTEIN LAW GROUP
The Rottenstein Law Group is a New York-based law firm that represents clients nationwide in mass tort actions. The firm was founded by Rochelle Rottenstein, who has more than two decades of experience as a lawyer, to represent clients in consumer product injury, mass tort, and class action lawsuits in a compassionate manner.
Contact:
The Rottenstein Law Group, LLP
Rochelle Rottenstein, Esq.
321 W 44th Street
Suite 804
New York NY 10036
(212) 933-9500 (office phone)
(212) 933-9980 (facsimile)
rochelle(at)rotlaw(dot)com
http://www.rotlaw.com