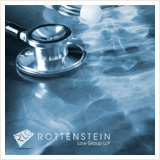 (PRWEB) October 23, 2012
According to an article that appeared in the Wall Street Journal earlier this month, the medical device manufacturer St. Jude Medical was aware that certain of its defibrillator wires—known as "Riata leads"—were sometimes breaking through their insulation years before the company finally issued a letter to doctors warning them about the problem in December 2010. While the WSJ piece makes clear that "St. Jude hasn't been accused of wrongdoing, and device-safety experts say the company has followed commonplace industry practices," the WSJ article goes on to report that experts are also saying that "the handling of Riata's problem shows flaws in the country's monitoring system for devices already on the market."
Doctors who encountered failed Riata leads assumed the failures were isolated events, the WSJ article reports, and they might have been quicker to recognize and publicize what turned out to be a widespread problem if St. Jude had told doctors about the Riata defibrillators' malfunctions earlier, or if the FDA had maintained an adequately detailed database of the adverse events reported in connection with the devices.
As the representative of claimants allegedly injured by several medical devices that the FDA once approved for sale, the Rottenstein Law Group is distressed by the weaknesses in the FDA's current system for post-market monitoring of medical devices, which are described in the Oct. 11, 2012, edition of the WSJ. Rochelle Rottenstein, the firm's principal, looks forward to the implementation of the FDA's plan to improve its post-market surveillance of medical devices, which is outlined in a report the agency released on Sept. 6, 2012.
More information about hip implant lawsuits, including information about the DePuy recall, is available at the Rottenstein Law Group's main web site, located at http://www.rotlaw.com/hip-replacement-lawsuits/. That page contains vital information about the dangers of hip replacement systems, along with easy-to-use social media features that allow for easy sharing on sites like Facebook and Twitter. (Attorney advertising. Prior results do not guarantee a similar outcome.)
About the Rottenstein Law Group
The Rottenstein Law Group is a New York-based law firm that represents clients in mass tort actions. The firm was founded by Rochelle Rottenstein, a lawyer with over two decades of experience in compassionate representation of clients in consumer product injury, mass tort, and class action lawsuits. For more information, please visit the firm's web site, or call (888) 9-ROT-LAW.
Contact:
The Rottenstein Law Group, LLP
Rochelle Rottenstein, Esq.
321 W. 44th Street
Suite 511
New York NY 10036
(212) 933-9500 (office phone)
(212) 933-9980 (facsimile)
rochelle (at) rotlaw (dot) com
http://www.rotlaw.com