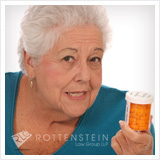 New York, NY (PRWEB) November 06, 2012
Spontaneous fractures related to Fosamax usually occur when users take the drug for more than three years. Alendronate prevents the body from reabsorbing dead bone cells (osteoclasts), which makes bones brittle, and in time those bones can break, particularly the thigh bone. The odanacatib trials focused on 243 women aged 60 and older who had taken Fosamax for three or more years and had stopped within the previous three months. It was a randomized, double-blind, placebo-controlled, multi-center study that took two years, and Merck publicized the results at the American Society for Bone Mineral Research's 34th Annual Meeting.
The results show that odanacatib works much better than the placebo. In nearly every bone area measured (three places in the hip and femur and in the lumbar vertebrae) taking the drug corresponded to an increase in bone mineral density (BMD) while the placebo users registered declines in bone strength. Only the BMD in the forearm did not show statistical signs of improvement for those taking odanacatib.
Because Fosamax causes several unusual and dangerous side effects, RLG notes that side effects forced nine percent of the odanacatib users to leave the trials, as opposed to three percent of those on the placebo. The side effects include urinary tract infection, back pain, arthralgia (joint pain), bronchitis, and upper respiratory tract infection.
Merck is clearly optimistic that it can replace Fosamax with a new patented prescription drug, but for those who took Fosamax and suffered an unusual bone break, a new drug will not solve their problems. The Rottenstein Law Group urges anyone whose friend or relative has been prescribed Fosamax or another osteoporosis drug to reach out to that person and recommend that he or she consult a physician immediately and then speak to a qualified personal injury lawyer. The Rottenstein Law Group maintains a Fosamax Injury Lawsuit Center at fosamaxinjurylawsuitcenter.com. The site has features that allow for easy sharing, including links for automatic posting on Facebook and Twitter, specifically to enable visitors to spread the word about the dangers of Fosamax. (Attorney advertising. Prior results do not guarantee a similar outcome.)
About THE ROTTENSTEIN LAW GROUP
The Rottenstein Law Group is a New York-based law firm that represents clients nationwide in mass tort actions. The firm was founded by Rochelle Rottenstein, who has more than two decades of experience as a lawyer, to represent clients in consumer product injury, mass tort, and class action lawsuits in a compassionate manner.
Contact:
The Rottenstein Law Group, LLP
Rochelle Rottenstein, Esq.
321 W. 44th Street
Suite 804
New York, New York 10036
(212) 933-9500 (office phone)
(212) 933-9980 (facsimile)
rochelle (at) rotlaw (dot) com
http://www.rotlaw.com