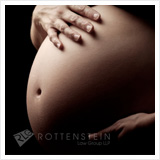 New York, NY (PRWEB) December 11, 2012
A British Columbia mother who took prescribed Paxil during her pregnancy and whose daughter was subsequently born with a hole in her heart will lead a class-action lawsuit against Paxil's manufacturer, GlaxoSmithKline Inc., alleging Paxil causes birth defects, according to the Winnipeg Free Press on December 5th. The B.C. mother's counsel says that, so far, about a dozen women have come forward to join the class-action suit, which applies to women who took Paxil in Canada, the Winnipeg Free Press further reports. Individual U.S. lawsuits alleging Paxil's manufacturers owe compensation to women claiming Paxil caused their children to suffer birth defects have been successful in the Unites States, the Winnipeg Free Press notes.
The Rottenstein Law Group represents women who took Paxil or other SSRI antidepressants during pregnancy and whose children allegedly suffered birth defects as a result. The firm has compiled a list of drugs that fall into the SSRI category at http://www.rotlaw.com/ssri-birth-defects-lawsuits, and urges anyone who took an SSRI antidepressant, including Paxil, and thinks her child was harmed as a result to speak to a qualified personal injury lawyer. The firm's Paxil Lawsuit Information Page, at http://www.rotlaw.com/paxil/ contains social media features that allow for easy sharing on sites like Facebook and Twitter, thereby enabling visitors to spread the word about Zoloft's potential dangers.
About The Rottenstein Law Group
The Rottenstein Law Group is a New York-based law firm that represents clients nationwide in mass tort actions. The firm was founded by Rochelle Rottenstein, who has more than two decades of experience as a lawyer, to represent clients in consumer product injury, mass tort, and class action lawsuits in a compassionate manner.
Contact:
The Rottenstein Law Group, LLP
Rochelle Rottenstein, Esq.
321 W. 44th Street
# 804
New York NY 10036
(212) 933-9500 (office phone)
(212) 933-9980 (facsimile)
rochelle(at)rotlaw(dot)com
http://www.rotlaw.com