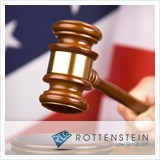 New York (PRWEB) December 10, 2012
Plaintiffs in the case (MDL #2326 In re: Boston Scientific Corp. Pelvic Repair System Products Liability Litigation) argued that the documents would reveal Boston Scientific knew about the incompatibility of a woman's pelvic biology with ProteGen's polyester mesh, according to court documents. The ProteGen is made of a polyester woven sling, coated with pressure-injected bovine collagen and part of a Vesica sling system that also contained bone anchors.
The Rottenstein Law Group is encouraged by the order, and maintains a website at http://www.vaginalmeshlawsuitcenter.net for the benefit of women who want more information about vaginal mesh risks and vaginal mesh lawsuits. The site contains vital information and easy-to-use social media features that allow for easy sharing on sites like Facebook and Twitter.
Boston Scientific recalled the ProteGen Sling in 1999 amid reports that the mesh, designed to treat incontinence in women, caused a number of serious side effects, including infection, vaginal bleeding, splitting of the vaginal tissue and harm to the vaginal wall. The product was only on the market two years before the recall.
Boston Scientific is one of six vaginal mesh companies involved in six different MDLs in two states. Thousands of transvaginal mesh lawsuits have been filed, alleging harm from the serious side effects associated with the products.
If you have suffered injuries from a vaginal mesh implant manufactured by Boston Scientific or some other company, you should call the Rottenstein Law Group, who has spoken to hundreds of women suffering from vaginal mesh side effects. The Rottenstein Law Group is a law firm committed to women's health issues, and won't rest until you get the compensation you deserve.
About THE ROTTENSTEIN LAW GROUP
The Rottenstein Law Group is a New York-based law firm that represents clients in mass tort actions. The firm was founded by Rochelle Rottenstein, who has more than two decades of experience as a lawyer, to represent clients hurt by defective medical devices.
Contact:
The Rottenstein Law Group, LLP
Rochelle Rottenstein, Esq.
321 W. 44th Street
# 804
New York NY 10036
(212) 933-9500 (office phone)
(212) 933-9980 (facsimile)
rochelle (at) rotlaw (dot) com
http://www.rotlaw.com