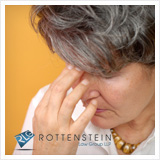 New York, NY (PRWEB) December 10, 2012
The study indicates that between 2005 and 2010 the use of vaginal mesh products comprised about 75 percent of all prolapse procedures, according to the Nov. 19, 2012, edition of the American Journal of Obstetrics and Gynecology. Researchers observed more than 78 million "person-years," identifying 60,152 mesh prolapse procedures. Vaginal mesh surgeries were considerably more common than alternative pelvic organ prolapse procedures at all ages, according to the AJOG study.
"Though the study reflects the increased use of transvaginal mesh procedures during that specific time period, the increase of state and federal scrutiny could indicate a sea change in attitudes toward transvaginal mesh as a solution to pelvic organ prolapse," said Rochelle Rottenstein, principal of the Rottenstein Law Group, which is currently evaluating cases related to serious transvaginal mesh side effects, including infection, vaginal bleeding, splitting of the vaginal tissue and harm to the vaginal wall. "I encourage anyone who thinks they might have been injured to contact the Rottenstein Law Group today."
Though the rate of transvaginal mesh procedures increased between 2005 and 2010, the U.S. Food and Drug Administration released a product safety alert to healthcare providers in 2011 that said it identified surgical mesh for transvaginal repair of (pelvic organ prolapse) as an area of continuing serious concern, and that complications from the surgery were not rare.
Thousands of transvaginal mesh lawsuits have been consolidated in a process called "multidistrict litigation." Six transvaginal mesh manufacturers are defendants in these MDLs (MDL No.s 2187, 2325, 2326, 2327, 2387, 2004).
The Rottenstein Law Group maintains a comprehensive website with a wealth of information regarding transvaginal mesh lawsuits and side effects. Women who believe they are suffering from serious side effects related to their transvaginal mesh surgery should contact Rottenstein Law Group today for a free consultation.
About THE ROTTENSTEIN LAW GROUP
The Rottenstein Law Group is a New York-based law firm that represents clients in mass tort actions. The firm was founded by Rochelle Rottenstein, who has more than two decades of experience as a lawyer, to represent clients hurt by defective medical devices.
Contact:
The Rottenstein Law Group, LLP
Rochelle Rottenstein, Esq.
321 W. 44th Street
# 804
New York NY 10036
(212) 933-9500 (office phone)
(212) 933-9980 (facsimile)
rochelle (at) rotlaw (dot) com
http://www.rotlaw.com