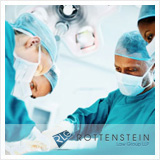 New York, NY (PRWEB) December 20, 2012
A new imaging system could help physicians evaluate a woman's suitability for pelvic organ prolapse repair using transvaginal surgical mesh, the Rottenstein Law Group reports.
Medical equipment manufacturer Imalux said researchers at the North Shore Long Island Jewish Health System used its Niris 1300e Imaging System to image previously placed surgical mesh in the vaginal tissue and measure the thickness of that tissue. Older technologies such as X-rays, CT scans and MRIs cannot achieve a high enough resolution for transvaginal mesh imaging, the company said citing studies presented at the American Urogynecologic Society Annual Meeting.
The use of imaging equipment in transvaginal mesh studies is in part a response to U.S. Food and Drug Administration safety reports and recommendations that surgical mesh manufacturers further study the risks of their medical devices, Imalux said.
This comes at a time when major manufacturers of mesh face a growing number of lawsuits related to serious side effects, and after the FDA said in 2011 that complications from surgery using transvaginal mesh were "not rare." Thousands of transvaginal mesh lawsuits have been consolidated in a process called "multidistrict litigation." Six transvaginal mesh manufacturers, including C.R. Bard, American Medical Systems, Boston Scientific, Ethicon, Coloplast and Mentor, are defendants in these MDLs (MDL Numbers 2004, 2187, 2325, 2326, 2327 and 2387, respectively). Five of those are consolidated in United States District Court - Southern District of West Virginia and the other in United States District Court - Middle District of Georgia.
The Rottenstein Law Group maintains a page at http://www.rotlaw.com/vaginal-mesh/ with a wealth of information regarding transvaginal mesh lawsuits and side effects. Women who believe they are suffering from serious side effects related to their transvaginal mesh surgery should contact Rottenstein Law Group today for a free consultation.
About THE ROTTENSTEIN LAW GROUP
The Rottenstein Law Group is a New York-based firm that represents clients nationwide in mass tort actions. The firm was founded by Rochelle Rottenstein, who has more than two decades of experience as a lawyer, to represent clients hurt by defective medical devices.
Contact:
The Rottenstein Law Group, LLP
Rochelle Rottenstein, Esq.
321 W. 44th Street
# 804
New York NY 10036
(212) 933-9500 (office phone)
(212) 933-9980 (facsimile)
rochelle (at) rotlaw (dot) com
http://www.rotlaw.com
(Attorney advertising. Prior results do not guarantee a similar outcome.)