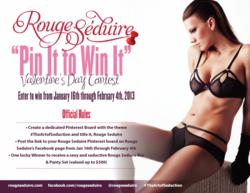 The goal is to excite people by what they see. I can't wait to see how Rouge Séduire's fans interpret #TheArtofSeduction in this unique contest
New York, NY (PRWEB) January 17, 2013
Rouge Séduire's "Pin It to Win It" Valentine's Day Contest launched today giving the brand's fans a chance to win a Bra and Panty set.
Fans of the brand have the opportunity to express their originality by creating a dedicated Pinterest board representing the theme #TheArtofSeduction.
On February 4th, the brand's designer, Sharon Fan, will select one winner to receive a Rouge Séduire Bra and Panty set of their choice (valued up to $500 USD.) The winner will receive her new lingerie set just in time for the hottest holiday of the year, Valentine's Day!
The recently launched brand was conceived to evoke seductive imagery. "It is elegant, dramatic, mysterious, alluring and sexy," noted Sharon. "Inspired by geometry such as the chevron pattern, iconic Art Deco architecture such as the famed Chrysler Building in NYC as well as authentic Japanese bondage art, each piece in the debut collection encourages women to embrace their inherent sensuality."
This contest gives entrants the opportunity to reveal their own personality and desires in interpreting this theme. The brand itself offers ultra-visual imagery to inspire and motivate entrants to explore their own vision of seduction.
Commenting on the contest, Sharon said, "The goal is to excite people by what they see. I can't wait to see how Rouge Séduire's fans interpret #TheArtofSeduction in this unique contest."
To enter, please follow these simple guidelines:
Log on to http://www.rougeseduire.com/contacts and enter a full name and email address
Log on to http://www.facebook.com/rougeseduire and LIKE the Rouge Seduire Facebook page.
Entrants must then create their own Pinterest Board with the theme #TheArtofSeduction and title it Rouge Séduire. The Board must contain a minimum of 12 "Pins".
Once created, entrants must post the link to their Rouge Séduire Pinterest Board on Rouge Séduire's Facebook Page between January 16, 2013 and February 4, 2013. The designer encourages fans to tell a bit about their vision and/or inspiration when posting the link.)
She also suggests fans use the hashtag #TheArtofSeduction when possible. Only ONE entry per person.
The team at Rouge Seduire advises entrants to use wise discretion and asks that no one include pornographic or violent images in their Rouge Séduire Pinterest Board.
"You can "push the envelope," but please don't go over the edge," asked Sharon of her fans. "Boards which are deemed pornographic or violent will be deleted from Rouge Séduire's Facebook page and the entrant will be disqualified from the contest.
Eligibility Requirements:
Must be age 18 or older
Must currently reside in the United States & U.S. territories, Canada, or the United Kingdom.
Must not currently be an employee of Rouge Séduire, their immediate families, marketing / pr affiliates or third party suppliers.
The Prize:
Designer Sharon Fan will judge the submissions and select the winner.
Winner will be selected on or about February 4, 2013.
Winner will be contacted via Facebook message.
Winner must respond to confirm acceptance of the Prize no later than February 6, 2013.
Winner selection is final.
There will be only 1 (one) winner.
Winner will be announced on Rouge Séduire's Facebook Page no later than February 7, 2013.
Winner will be able to select 1 Bra and 1 Panty from Rouge Séduire's current collection. Value not to exceed $500 USD Retail.
Rouge Séduire product is only available in sizes 30-38 A-D for Bras and XS-XL for Panties.
Prize will be shipped via USPS, UPS or FEDEX and is expected to reach the winner no later than February 14, 2013.
Returns will not be accepted unless the product is damaged/defective.
About Rouge Séduire:
With its niche and unique design aesthetic, luxury lingerie brand Rouge Séduire effortlessly evokes alluring, intoxicating and seductive images of women. Founded by designer Sharon Fan, the line is set to make its mark on the luxury lingerie market.
http://www.rougeseduire.com
http://www.facebook.com/rougeseduire
Follow @rougeseduire
#TheArtofSeduction