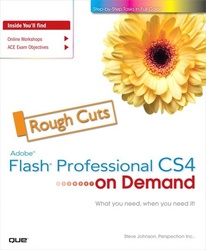 INDIANAPOLIS (PRWEB) October 2, 2008
News Facts
Rough Cuts provide access to an author's developing manuscript before the final product is published. A Rough Cuts title is regularly updated as new material becomes available. Using the Notes feature, readers can send feedback, suggestions, bug fixes, and comments directly to the author and editor. The Adobe CS4 titles releasing immediately as Rough Cuts include: Adobe Photoshop CS4 on Demand, Adobe Flash CS4 Professional on Demand, Adobe Dreamweaver CS4 on Demand, Adobe Illustrator CS4 on Demand, all by Steve Johnson, Perspection, Inc. Additional CS4 Rough Cuts releasing later this year include: Sams Teach Yourself Adobe Creative Suite 4 All in One by Mordy Golding; Adobe InDesign CS4 on Demand by Steve Johnson, Perspection, Inc., and Sams Teach Yourself Adobe Flash CS4 Professional in 24 Hours by Phillip Kerman. A Rough Cuts title can be purchased online at http://safari.informit.com/roughcuts. About Pearson
The global leader in educational and professional publishing, Pearson Education is home to such respected brands as Addison-Wesley Professional, Cisco Press, Exam Cram, IBM Press, Prentice Hall Professional, Que, and Sams Publishing, which have as their online publishing arm InformIT (http://www.informit.com) - The Trusted Technology Learning Source. In addition, Berkeley-based Peachpit (http://www.peachpit.com), the publishing partner for Adobe Press, Apple Certified, and others, publishes best-selling books for creative design professionals. Pearson is also co-founder, with O'Reilly Media Inc., of Safari Books Online (http://safari.informit.com), the premier on-demand technology content library providing thousands of expert reference materials through a single point of contact, including expert technology, creative and design, industry and management resources in video, audio and written formats. Pearson Education is part of Pearson (NYSE: PSO), the international media company. Pearson's other primary businesses include the Financial Times Group and the Penguin Group.
About Safari Books Online
Safari Books Online, founded in 2001 as a joint venture between pre-eminent technology publishers O'Reilly Media, Inc., and Pearson Education, is an on-demand digital library delivering expert content from the leading authors in technology and business. Safari offers the combined collections of Prentice Hall, O'Reilly Media, Addison-Wesley, Microsoft Press, Sams, Que, Peachpit Press, John Wiley, Elsevier, lynda.com, Adobe Press, Cisco Press, Sun Microsystems Press, Wharton School Publishing, Course Technology, and many more top publishers in one fully searchable database. IT professionals, software developers, web designers, and business and creative professionals use Safari as their primary resource for research, problem solving, learning, and certification training. Thousands of books, prepublication manuscripts, short documents, articles, and instructional videos are available. Safari is an essential, always-on business tool that is rapidly changing the way corporate, academic, and training organizations access information and is enabling increasingly mobile workforces to get technical and business reference resources anytime and from anywhere. Safari offers a range of business-to-business product mixes and pricing programs for every sized organization, as well as business-to-consumer subscription options for individual users.