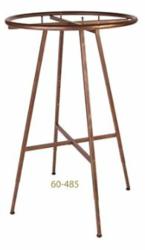 Round racks are one of the most popular and recognizable fixtures on the market. Retailers can hang a lot of merchandise on them without taking up more floor space than necessary.
St. Louis, Missouri (PRWEB) December 29, 2011
Now that the holidays have passed, and Christmas sales have come to a close, retailers are left with overstocked merchandise that they have yet to sell off. While regular clothing racks are viable options for displays, Store Supply Warehouse has a wide selection of round clothing racks that can be used to more efficiently maximize store space for merchandising.
"After Christmas, retailers can be left with a surplus of inventory," said Matt Wohlstadter, President of Store Supply Warehouse. "Some of the stock can be sold off through clearance sales, while other items can still be sold off at market price. Round racks are one of the most popular and recognizable fixtures on the market. Retailers can hang a lot of merchandise on them without taking up more floor space than necessary."
Both small independent retailers and large chains can make use of round racks, as they maximize floor space, hold a lot of inventory, and maintain organization. Retailers can use one rack to hold old inventory either on clearance or left over from the holiday season, while another rack can be utilized for new inventory coming in for spring. Using size dividers that easily slip onto the round hang rails, retailers can keep all inventory organized and arranged by size, so that customers know exactly where they should look for their size.
Additionally, round racks can be used to set up clothing displays. Store Supply Warehouse provides retailers with glass, wood and wire basket toppers in a variety of finishes to match their round racks. These toppers offer a space for retailers to create vertical merchandise displays using countertop mannequins and smaller mannequin alternatives, presenting merchandise located on each respective clothing rack.
"When customers see a display with clothes that they like, they will go straight to that rack to look for the merchandise in their size. With round racks, retailers can create a display that uses both overstocked items and new items, located on the same rack, giving customers complete options, which supports the l goal of increasing average sale sizes," added Wohlstadter.
Store Supply Warehouse also offers round rack options for portability. With attachable wheels, round racks can be positioned to enhance floor space, moved outside during clearance sales, and rolled back into warehouses and stores when inventory declines. Retailers have endless options for organizing merchandise and departmentalizing inventory by being able to roll the racks as needed.
For more information about Store Supply Warehouse's clothing racks and clothing rack accessories, please visit their website: https://www.storesupply.com/c-517-garment-racks.aspx
About Store Supply Warehouse
Store Supply Warehouse was founded in 1994 in St. Louis, and has since seen immense growth, selling retail fixtures and retail store supplies, including display cases, racks and shelving, shopping bags, hangers, pricing and tagging guns and mannequins. The distribution chain takes pride in its quick transaction process, efficient delivery, and quality customer service. Products are available for purchase through Store Supply's catalog, which is updated and distributed four times a year, or online at http://www.storesupply.com. Same-day shipping is guaranteed on all orders placed before 3 p.m. The company's main office is located at 9801 Page Avenue, St. Louis, Missouri, 63132. Contact Store Supply directly at 800-823-8887 or by email at contactus(at)StoreSupply(dot)com.
###