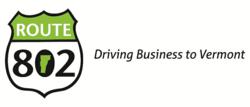 It is time for Vermont's restaurants, hotels and B&Bs to join the mobile payment revolution. The days of paying credit and debit card processing fees without any added value are over.
Williston, VT (PRWEB) April 04, 2013
Digital media company Route 802 announces the expansion of mobile and digital marketing opportunities for Vermont businesses in the travel and tourism industry with its newly created Vermont Travelers' Information Network (VTIN). "The VTIN is currently comprised of 14 community-based mobile apps, including BurlApp in Burlington and UnLost Stowe, that enables businesses to communicate more effectively with their customers," says Route 802 founder Al Levy. "We are also rolling out digital signage advertising opportunities for businesses at the Welcome Centers just in time for the busy summer tourist season. And thanks to our new agreement with LevelUp, businesses will be able to take payments through mobile devices. "
As part of the VTIN, Route 802 unveiled a new partnership with Boston-based LevelUp that will provide mobile payment methods and mobile marketing opportunities for Vermont restaurants, hotels and attractions. Participating businesses (especially those in the travel and tourism industry) will be able to avoid credit-card processing fees since LevelUp provides a zero-percent interchange rate. "It is time for Vermont's restaurants, hotels and B&Bs to join the mobile payment revolution," said Levy. "The days of paying credit and debit card processing fees without any added value are over. LevelUp has created a fast, easy and mobile payment solution that is free for consumers and provides marketing benefits such as enticing new customers with special deals and built in customer rewards programs to businesses."
The integration of LevelUp into Route 802's family of community-based, mobile apps will make it even easier for visitors to Vermont to travel in the state. Here is how it works: Mobile users can download and search any of Route 802's apps for free to find information about local businesses including hours of operation, contact information, menus, photographs, and links to Google maps. The upcoming integration of LevelUp will enhance a user's mobile experience by providing the capability to pay for food or a visit to an attraction using a mobile device. In addition, LevelUp gives participating businesses valuable data that can be used to create effective marketing campaigns that turn one-time visitors into regulars.
Terri Melincoff, co-owner of Burlington institution Sweetwater's, was initially attracted to LevelUp because it eliminates credit-card processing fees. Since implementing the app six months ago, however, she has seen the most value in how LevelUp builds customer loyalty. She also likes that LevelUp lets a customer process bills at the tables. "It gives customers who sit outside on Church Street during the warmer months a sense of security because their credit card does not have to travel anywhere to close out a check. With LevelUp, we can do everything at the table."
Other Burlington-based businesses are eager to sign up for LevelUp's mobile payment platform. Route 802 recently held educational seminars on LevelUp with the help of the Burlington Business Association (BBA), Church Street Marketplace and Seven Days. "The response has been outstanding," said Levy. "Bluebird Tavern, La Villa Bistro, and EcoBean and Juice are coming on board with LevelUp. They understand that it's convenient for their customers and it shifts the payment processing fees into marketing dollars for the businesses."
LevelUp is particularly excited about its partnership with Route 802. "Vermont is a desirable market for us," says LevelUp CEO Seth Priebatsch. "It is not a market that we have yet had the resources to roll out ourselves, but one where we are excited to be. To work with the dedicated team at Route 802 will help bring Vermont into the mobile payment revolution."
Route 802 plans to coordinate more LevelUp seminars in Burlington, Stowe, Killington, and Middlebury. In addition, Route 802 is integrating two additional mobile software providers, Inntopia for easy mobile reservations and Zuppler for easy mobile food ordering into the Vermont Travelers' Information Network. Route 802 is showcasing all of the components of the VTIN and offering demos at their booth at the Vermont Travel Industry Conference on April 3 and 4.
About Route 802
Route 802, LLC is a digital media company with a mission to deliver Vermont's premier mobile marketing platform. The company recently created the Vermont Travelers' Information Network, which is comprised of community-based mobile apps packed with features that connect businesses to their clientele as well as digital signage in the state's 16 Welcome Centers and public venues creating a powerful promotional coalition of publishers, chambers of commerce and many of Vermont's largest economic engines. Route 802's growing network of mobile-optimized applications provides user-friendly, location-based resources that engage and connect communities with relevant local content and next generation marketing tools. Through versatile, scalable and customizable products, Route 802 is charting the digital future of Vermont – and beyond. Learn more at http://www.route802.biz or email at al(at)route802(dot)biz.
About LevelUp
LevelUp is a revolutionary payment system that streamlines the vendor-customer relationship and ultimately adds more money to a business' bottom line by encouraging customers to become repeat visitors. With LevelUp, customer transactions take less time overall and cost nothing to process by letting customers pay for a meal with a swift and easy scan of their smart phones. Vendors eliminate all credit and debit card processing fees and do not have to make any investment to use LevelUp's equipment. Learn more at http://www.TheLevelUp.com.